Want to Work at Camp J?
We are looking for the best and brightest staff that want to spend their summer changing children's lives. We are hiring camp counselors to lead our groups, camp advocates to work one-one one with our campers in the Yachad Program, and specialists to lead activities. Don't miss out on your best summer yet, fill out an application!
Camp J does not discriminate in the recruitment of employees on the basis of race, color, religion, national origin, sex, gender, sexual orientation, marital status, disability, age, or veteran status.
Full Time Camp Staff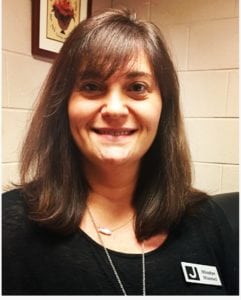 Mindye Goldberg Mannel, Director of Camp, Youth and Family Programming
502-238-2708, mmannel@jewishlouisville.org
Mindye Goldberg Mannel is our Director of Camp, Youth and Family Programming. She has come full circle with our camp programs. As a child, she attended Camp Rickaree at the Louisville J, as a teen/college student she worked as a counselor and unit head. Her two children went to Camp J and now she's the Director. Camp J is just in her blood. She is very excited for her second summer as Camp Director and can't wait to see all the smiling faces.
Katelyn Graves, Assistant Camp Director
502-238-2774, kgraves@jewishlouisville.org
Katelyn Graves is our new Assistant Camp Director of Programming. Katelyn grew up going to JCC summer camps. While this is her first summer at Camp J, it is her fifth summer working at a JCC summer camp. "I am so excited to be part of Louisville's Camp J and to meet all of our campers."
CAMP COUNSELORS 
Our dedicated and responsible camp counselors are carefully selected for their skills, experience and interest in working with children.They receive extensive training prior to the summer and ongoing supervision during the summer to ensure they provide the highest quality care.They are trained in creative programming, group dynamics, child development, conflict resolution, safety procedures and more. Two Israeli Shlichim (counselors from Israel) will be at camp all summer infusing Israeli culture into Camp J.
BRING ISRAEL TO YOUR HOME
Your Family Can Make a Difference!
Your family has an opportunity to be part of a wonderful and unique experience. Campers enrolled in our day camps are fortunate to experience the joy of Israel with our Shlichim (staff from Israel). They infuse our day camp programs with Israeli music, dancing, sports, food, language, trends and the inside scoop on Israeli life! Personalize the experience for your entire family by hosting one of our Shlichim for a two week period. For more information, please contact Mindye Mannel at mmannel@jewishlouisville.org.
CAMP COMMITTEE
Erica Brady, Chair
Keren Benabou
Judith Danovitch
Kat Gallagher
Nikki Grizzle
Lauren Hasselbacher
Jennifer Jaconbson
Charisse Levine
Cyndy Lewis
Cristie Newkirk
Nic Noles
Stephanie Shaikun
Kristen Yoffe