[by Shiela Steinman Wallace]
Whenever a group of people come together and devote their time and energy to a project, wonderful things happen. When that group of people numbers 400 or more General Electric Technology Department employees who collectively put in more than 5,000 hours, they can change the world for an organization.
On Friday, June 24, following many weeks of planning and preparing, the entire department descended on the Jewish Community Center campus and transformed the building and grounds.
Twenty-seven project teams painted and installed new carpeting, stair treads and flooring. They mounted new flat screen TVs in the main cardio court, did some work around the indoor pool and the locker rooms and divided one of the early childhood rooms into two rooms to enable the program to accommodate more children. They built a loft to provide storage area for CenterStage, removed the cafeteria counter and put up drywall downstairs, put up shelving and built several large cabinets.
Outside, they reshingled part of the pavilion, built a ga-ga court and built privacy fencing around the outdoor lap pool. They also built some picnic tables, built a fence around the community garden and refurbished the bleachers.
"Now that the GE volunteer project has come and gone, we have many positive new additions and a fresh appearance to many parts of the Center," said Facility Manager Brian Tabler. "I encourage everyone to take a walk around the property and the facility to check out the completed projects.
"GE takes community service work very seriously," GE Project Leader Geoff Ranard said. "It's a big part of what we do."


It is one of GE's core beliefs that each department should give back to the community in some way, so the company requires each of its departments to do community service projects, and the company has many departments.
Most of the year, the volunteers who worked at the JCC are the engineers who design GE's products, but on June 24, Ranard explained, working at the JCC was their job for the day. "Everybody in Tech is expected to do this for their job, and lots of people have been here on and off for a couple of weeks."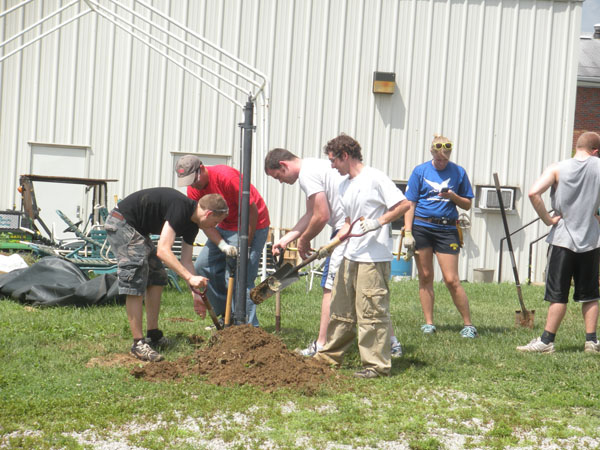 Why the JCC? "The company likes to support the community and promote culture, diversity and good values," Ranard said, and the JCC was a good fit.
Jewish Community of Louisville President and CEO Stu Silberman got the process started late last year when he attended a Leadership Louisville Executive Dinner where he met Steve Downer, a GE executive. The two men connected, sharing information about things they had in common, their careers, their hopes and their dreams.
The JCL leader discussed some of the challenges our agency is facing today, including the need to address longstanding building and grounds issues. Downer listened and referred Silberman to the GE Volunteers program. In January, the company began the process of choosing their spring project.
"It was a long process getting the approval. We took the GE organizer, Jamie Hillegonds, through every inch of the building, matching our needs with their capabilities," said Tabler.
She took her findings back to the company and presented the JCC's case.
Once the decision was made, GE committed the manpower for the planning and labor, but it was up to the JCL to raise the money for the materials. Thanks to the generosity of many donors, approximately $40,000 was raised to purchase materials.
Other companies helped with the project, too. Porter Paint helped with the planning and donated some materials and interior decorator Tracy Burbrink helped with the color selection.
When you have more than 400 volunteers spending the day working, you have to provide lunch for them. Mark's Feed Store, Paul's Fruit Market, Plehn's Bakery, Rainbow Blossom, Tyler Water and Desserts by Helen donated food. Roobee Red Tee held a free tasting and Vint gave a good deal on coffee. In addition, Park Community Federal Credit Union made a donation to help pay for food.
Several people deserve special recognition for making this project the success that it was. From GE, Steve Downer, the executive who got things started; Geoff Ranard, Jamie Hillegonds, the organizer who championed the project at GE and presented the case for choosing the JCC as this season's project; and Alison Seward who helped coordinate the material needs for all the projects.
From the JCL, Stu Silberman who made the connection that got everything started, Kim Hales and Frankye Gordon who did the fundraising; and CFO Jamie Pillsbury and Corky Horrell who helped with the financials.
Brian Tabler and his operations staff, Larry Bischof, Sherman Marshall and John Dillon all put in many extra hours making plans, collecting and organizing materials, doing preparatory work, helping wherever they were needed on the day of the project, and cleaning up and finishing up what was not completed after the GE volunteers left.
Donors to the project include Karen Abrams, Madeline and Jerry Abramson, Joel Martin and April Farmer, The ARBA Group, Nancy Sue Balf, Margot Barr, Lee Benovitz, Harris and Sandy Berman, Sheila Berman, Lisa Bickett, Bonnie Lyn Bizer, Jeam Bryant, Peggy Campbell, Arleen Carr, Geoffrey and Akiko Clemens, Louanna Combs, Drew Conliffe and Patricia and Brett Connally.
Also, Scott Davenport, Scott and Jes-sica Davis, Ann Dorzback, Doug Dowell, Dr. James and Etna Doyle, Moises Dres-zer, Riva Drutz, James and Mary Eaves, Mark Epstein, Joe Ernst, Ron and Pat Facktor, John and Carol Findling, Joseph Fineman, Terry Fischer, Babette Fleisher, Four Courts, Cheryl Froilla and David and Linda Fuchs.
And, Harry Geller, Joe Gittleson, Ed Goldberg, Angeline Golden, Al Goldin, Ayala and Josh Golding, Toni Goldman, Jane Goldstein, Irving Goldstein, Steven Goodman, Beth Haines, Sandy Ham-mond, William K. Howard, Dennis Hummel and Marshall and Shelley Kahn.
And, Charles Kaplan, David Kaplan, Kathleen Karr, Sherry and Buddy Kauf-man, Arlene Kaufman, David Klein, Rita Klein, Jay Klempner, Bob Kohn, Kateryna Koma-rovsky, Margie and Michael Kommor and Faina and Ariel Kronenberg.
And, Damian Laber, Alan and Kate Latts, David Leibson, William Levy, Steve Linker, Cantor David Lipp and Rabbi Laura Metzger, Paul Miller, Rebecca Morton, Dottie Murdock, Carolyn Neustadt, Raymond Nichter, Anne Northup, Emily Podgursky, George Pouler, C.J. Pressma, Sanford and Robin Reikes, Republic Bank, Alex Rosenberg, Marty Ruby, Susan Rudy, Michael Russman and Amy and Bill Ryan.
And, Bob Sachs, Larry Saltzman, Edith Sammons, Brenda Sheeley, Marcia Shuster, Stu and Alison Silberman, Thomas and Susan Sobel, John Greg Stebbins, Jacob Stein, Thomas and Darlene Stetson, Barry Stoler, Patricia Summers, Teresa Russell and Terry Behan, Sharon Timmons and Jen and Jeff Tuvlin.
Ann Ulinsky, Lawrence Wasser, Alvin D. Wax, Ed Weinberg, the Weinberg-Turk Foundation, Fred Weis, Ronald and Elaine Weisberg, Jeffrey Weiss, Ann E Whittington, Richard Williams, Jake Wishnia and Jonathan and Steffi Wolff.
---
{gallery}Community/2011/070111/GEVolunteers{/gallery}