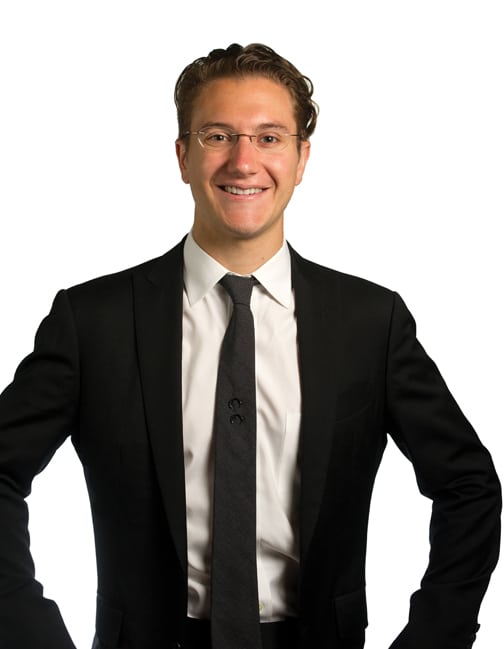 Teddy Abrams is the new music director and conductor of the Louisville Orchestra, and members of the Lion of Judah Division will have the opportunity to meet him and hear him speak at their 2015 Federation Campaign event on Wednesday, November 5 at 6:15 p.m. at a private home.
Abrams claims he's not a prodigy, but music came easily to him, and he attributes some it to his Jewish heritage.
He grew up in the San Francisco Bay Area, mostly in Oakland, CA, and at age 3, he discovered his mother's piano. She never learned to play, but always wanted to, Abrams explained.
He started playing around with it himself, improvising and trying to play things he heard, and he started formal piano lessons at age 5. He excelled at it, but didn't take it too seriously.
At age 8, Abrams heard a high school band play and instantly knew he wanted to play the clarinet. When he began lessons, it wasn't difficult. "It just came to me," he said.
Abrams tested out of high school and went straight to Laney College in Oakland at 11 and then attended the San Francisco Conservatory of Music.
At 9, he saw his first orchestra, the San Francisco Symphony, conducted by Michael Tilson Thomas.
"Tilson Thomas inspired me to become a conductor. I was already a musician, but watching him conduct the very first orchestra concert I ever saw – it was all Gershwin – I decided right then and there, that is what I wanted to do. I wrote him a six-page letter, and a week later I got a response!" Abrams said. "A couple of seasons later, we started working together (with the San Francisco Symphony Youth Orchestra). He sort of took charge of my musical activities and got me on a very positive path when I was about 12."
At age 15, Abrams was accepted into the Curtis Institute, a highly selective conservatory in Philadelphia, then he went to the New World Symphony which Tilson Thomas founded and leads. It is an orchestra designed to prepare highly gifted graduates of distinguished music programs for leadership roles.
Abrams, is a fourth-generation American. His ancestors immigrated to the U.S. around 1906, he said, from Russia, Poland and Hungary.
"Culturally, the influences run deep," he said. "Jews in the Ukraine were only allowed to have certain jobs, and music-making was one of them," he said. "When Jews immigrated to America at that time, they came for economic opportunity and wanted to make money by doing things that were completely different from what they had been forced to do," he said. "They became lawyers and such," and moved away from musical professions. So while his parents weren't musicians, he believes his earlier roots play a role in his talent.
When Abrams was resident conductor of the MAV Symphony Orchestra in Budapest, he found that his one-eighth Hungarian ancestry was an asset. Though there is still anti-Semitism in Hungary, it is one of the more liberal countries in Europe and the Hungarians embraced him. "The hippest section of Budapest is the Jewish district," he said. "They took me as one of their own."
While they are not biologically related, Abrams considers Michael Tilson Thomas family and attributes Tilson Thomas' Jewish roots to his own musical success. Tilson Thomas is the grandson of Boris and Bessie Thomashefsky, who were stars in the Yiddish Theater district in New York, which is the environment that spawned composers George and Ira Gershwin, and actors Edward G. Robinson and Fyvush Finkel. "Most of the classical world in the 20th century was inspired by Judaism," he said.
Abrams enjoys sharing his music with others and even opens his home up to those who love music. He bought a house on Market Street in the Nulu district of Louisville. The front room houses a grand piano, an organ and several other instruments. During the First Friday Trolley Hop, he invites musicians over, opens up the house and they play for the passersby. There are speakers set up outside so those on the street can enjoy the music.
One night, he was playing Bach alone on the organ when he looked outside and saw some teenagers on skateboards. "They started dancing!" he said. He knew they were just being silly, so he joined in the fun, clowning with them. "That's a group of kids who might not have ever heard Bach before."
Classical isn't the only kind of music Abrams plays. He is also a member of the Sixth Floor Trio, a group of friends from the Curtis Institute who play Klezmer music. The trio played its first show opening for Marvin Hamlisch and even got to play with Hamlisch's band and do some shtick with them.
Under Abrams' direction, the orchestra will branch out to surrounding areas soon. The "Music Without Borders" series will offer orchestra concerts at churches, synagogues and schools, including St. Francis in the Fields Episcopal Church, St. Stephen Church and Congregation Adath Jeshurun. Shows include works by Liszt, Stravinsky, Schubert, Mendelssohn and Mozart. Abrams stressed that this is not an abbreviated orchestra. "The whole orchestra will be there – there is no B-team."
The Lion of Judah event is open to women who give at least $5,000 a year to the Annual Federation Campaign. Debbie Friedman, Jane Goldstein, Cheryl Karp, Kate Latts and Denise Schiller are co-chairs of this event.
The cost is $36 per person. RSVP to Mary Jean Timmel at mjtimmel@jewishlouisville.org or 238-2722.