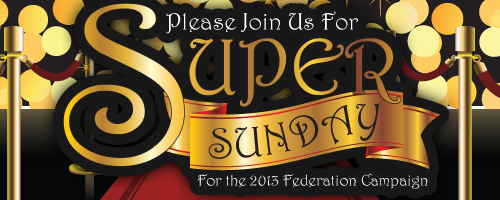 Support the 2013 Federation Campaign this Super Sunday

Sunday, February 17

When you come to the Jewish Community Center on Sunday, February 17, and you look carefully, you might just see Tommy Lee Jones or Helen Hunt, Katniss Everdeen or Jean Valjean walking up the red carpet side by side with local celebrities like folksinger John Gage and newscaster Bryan Baker.
Well, maybe not the real Tommy Lee Jones or Helen Hunt – but some of your friends who have gotten into the spirit of Super Sunday's Pre-Oscar Party and donned costumes to come as their favorite movie star or character.
You're invited to be part of the fun.

Give Time!
If you'd like to volunteer with us on Super Sunday, please mail this form, call Mary Jean at 238-2739, email mjtimmel@jewishlouisville.org or sign up online! Shifts are 9:30 a.m.-noon and 1-3:30 p.m.
Answer the Call
When our volunteers call you on Super Sunday, please answer the call and make your generous gift to the 2013 Federation Campaign.
Super Sunday Chair
Sarah Harlan
Super Sunday Committee
Bryan Baker, Barbara Franklin and Kate Kastenbaum
Food* Prizes and Fun!