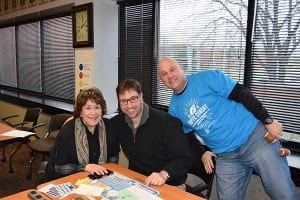 The Jewish Federation of Louisville thanks all members of the community who answered the call and gave generously on Super Sunday, January 31.
Throughout the day, the Board Room bustled with energy and activity as dedicated volunteers and staff called community members to thank them for their participation. That day, volunteers secured 178 gifts were made to the 2016 Federation Campaign, totaling $109,050.
This represents an increase of 48 percent over gifts from the same donors last year, and all the increases will be generously matched by the Jewish Heritage Fund for Excellence. Through the Double Your Impact Challenge, JHFE is matching all new and increased gifts to the 2016 Campaign up to $200,000.
There is still time to make your pledge and help keep our Louisville Jewish community strong and vibrant. To donate online today, go to www.jewishlouisville.org/donate or call the Federation office, 502-238-2739.
To see how the Federation Campaign dollars are used to make a difference in people's lives in Louisville, in Israel and around the world, go to www.jewishlouisville.org/federation/about/financially-responsible or call the Federation office for additional information.
Thanks to 2016 Federation Campaign Chair Leon Wahba for his leadership that day and for the entire Campaign, and to all who helped make calls.
Super Sunday volunteers were Karen Abrams, Jeff Barr, Myrle Davis, Barbara Franklin, Alan Friedman, Harry Geller, Stuart Goldberg, Jane Goldstein, Harold Gordon, High School of Jewish Studies Director Sarah Harlan, Jewish Community of Louisville Board Chair Jay Klempner, Glenn Levine, Jewish Family & Career Services Board Chair Stephanie Mutchnick, Donald Platoff, George Polur, Lewis Rowe, Amy Ryan, Julie Segal, Lisa Sobel-Berlow, Rebecca Swansburg, Jewish Family & Career Services Executive Director Judy Tiell, Jeffrey Tuvlin, Benjamin Vaughan and David Weinberg.
Staff members who helped out that day included Benji Berlow, Kristy Benefield, Grace Ensign, Matt Goldberg, Ben Goldenberg, Stacy Gordon-Funk, Lenae Price and Shiela Wallace.