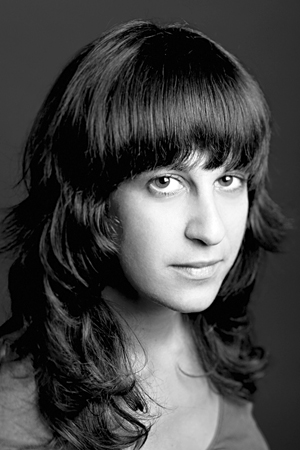 [by Shiela Steinman Wallace]
The Humana Festival of New Plays, Actors Theatre of Louisville internationally acclaimed showcase of new dramatic productions is now underway, and this year's line-up includes two plays written collaboratively by groups of playwrights that include Deborah Stein.
Fissures (lost and found) opens today and runs through March 28. Heist! will be performed March 12-28.
Stein describes herself as a 32-year-old third generation New York Jew who is now based in Minneapolis. Fissures and Heist! actually mark her return to Actors Theatre. Last year, she was a contributing writer for the apprentice anthology, Brink.
Although both her works in this year's Humana Festival are collaborative, she says they are very different. Fissures is "very poetic, playful and thoughtful," where Heist! is "a rollicking good-time comedy."
Actors Theatre and The Playwright's Center commissioned the Theatre de la Jeune Lune and the Workhaus Collective to produce Fissures. In the resulting work, playwrights Steve Epp, Cory Hinkle, Dominic Orlando, Dominique Serrand, Deborah Stein and Victoria Stewart "roam through the fanciful, mysterious territories between recollection and imagination, loss and rediscovery, creating a piece that playfully embodies the ever-shifting landscape of memory," according to the Actors Theatre' write-up. This work is being performed in Actors' Bingham Theatre.
Heist!, on the other hand, is this year's apprentice production, conceived and created by Sean Daniels and Deborah Stein, and written by Stein. Stein and her collaborators invite you to the 21c Museum Hotel for the unveiling of a priceless masterpiece by a reclusive genius – but beware, the evening is turned upside-down by a wily team of art thieves, and you may find yourself involved in their capers. All 22 apprentices helped create their characters, she explained.
Stein said, "I got into playwriting by working with creative ensembles." She worked with actors in creating their characters, and as they worked, the scenes improved. She took notes on what was happening and then went back to write the scenes.
"I thought I wanted to be a director," she explained, "then I ended up fixing and shaping and editing" what the actors were doing, and wound up writing. To hone her skills, she earned her MFA from Brown University and received two Jerome Fellowships from The Playwrights' Center where she is co-producing director of the Workhaus Collective. She is also the recipient of the 2009-11 Bush Artist Fellowship and a member of New Dramatists.
While the plays in this year's Humana Festival are collaborative, Stein also does solo work, and sometimes, she draws on her Jewish heritage. Currently, she is working on Natasha and the Coat, a play about some Chasidim from the Williamsberg section of Brooklyn, the gentrification of their neighborhood with the art scene and how they adapt.
For this play, she is drawing on her heritage. Her parents grew up in Brooklyn and she often visited those neighborhoods with her family and has seen them change over time.
"I grew up in a secular Jewish family in New York City," she said. "Our Jewishness was more cultural than spiritual. I was bat mitzvahed, and my family lights candles on Friday night."
"Growing up in New York," she explained, "it's easy to take my Jewishness for granted. It's not the same in the Midwest."
In New York, there is a very rich Jewish culture and history. "I took for granted that people know about things like Yiddish."
Minneapolis proved to be quite a culture shock for her. She recounted an anecdote to illustrate her point. One day a friend invited her out to get a something the friend pronounced "bag"el. Only when they arrived at the shop did she realize that a Minneapolis "bag"el was really a bagel.
A complete list of Humana Festival of New Plays events can be found at www.ActorsTheatre.org. Single ticket prices for Humana festival plays range from $30-$56. For information or reservations, call 584-1205 or 800-4-ATL-TIX.
The Humana Festival of New Plays is underwritten by The Humana Foundation.