Nearly 150 people filled the social hall of the Hindu Temple of Kentucky on Thursday, October 21, to share a vegetarian meal and learn about each other's faiths. The annual event sponsored by Highlands Community Ministries.
After people from different faith communities shared the meal and learned from each other, Stan Esterle of Highlands Community Ministries and Rev. Terry Taylor of Interfaith Paths to Peace moderated a formal presentation about world religions and the earth, posing a series of questions to six panelists after each presented a general opening statement about how each faith relates to the earth.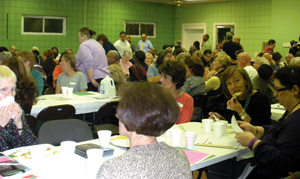 The panelists were Dr. Ashok Raj of the Hindu Temple of Kentucky, Dr. Alicestyne Turley of the SGI Buddhist Center, Rabbi Stanley Miles of Temple Shalom, Tim Darst of Kentucky Interfaith Power & Light St. Williams Catholic Church, Dr. G.A. Shareef of the Louisville Islamic Center and Dr. Rita Butler of the Baha'i Center.
Several hosts from the Hindu Temple closed the program with an echoing prayer song reflecting Hindu values.
Those who arrived early had the opportunity to tour the Hindu Temple.