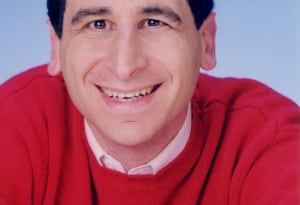 If you are a fan of The Simpsons, then you are in for a treat because Mike Reiss, the 2014 Goldstein/Leibson Scholar-in-Residence is one of the writers and producers of the cartoon show that has captivated audiences for 25 years with the exploits of Homer, Marge, Bart, Lisa and Maggie.
Reiss will present "The Simpsons and Other Jewish Families" Sunday, October 26, at 10 a.m. at the Jewish Community Center in the Patio Gallery, when he will discuss growing up Jewish in a small Christian town and how that influenced his work with The Simpsons and other shows including The Critic and Queer Duck.
Reiss will also speak at an event later that evening, "Simpson's Mania: Behind the Scenes with America's Favorite Family," at 6 p.m. at the Falls City Brewery and Old 502 Winery, 120 S. 10th St. There will be Duff & D'ohnuts (beer and snacks). At both events he will give the audience an in-depth look into The Simpsons and other Jewish families. The talk will feature anecdotes and inside stories from one of the longest running shows in TV history. Reiss will discuss Jewish themes and guest stars on The Simpsons.
Both events are free and open to the public.
When Reiss speaks, he takes audiences inside the lives of Springfield's first family, revealing how The Simpsons was almost cancelled before it hit the air, shares secret trivia of the show, insane dealings with network censors and lots of juicy gossip about celebrity guest stars. Reiss also delves into the state of television programming, describing with his characteristic wit why he believes TV is rotten and what steps should be taken to bring the medium back to life.
Reiss grew up in Bristol, CT, and graduated from Harvard, where he was co-president of the Harvard Lampoon. He was one of the original writers of The Simpsons, and has won four Emmy awards for his work on the show, which has earned Time magazine's vote as "The greatest TV show of the Twentieth Century." Reiss has written a dozen scripts and produced more than 200 episodes. His other television credits include The Tonight Show with Johnny Carson, Alf, Eddie Murphy's The PJs and It's Garry Shandling's Show, where he earned an ACE award for writing and producing.
The Goldstein/Leibson Scholar-in-Residence program was established by Phyllis and David Leibson and Nicole and David Goldstein. We are very grateful for their generous sponsorship of this event. It is made possible by the Goldstein/Leibson Scholar-in-Residence Second Century Fund and the Jewish Federation of Louisville Goldstein/Leibson Education Program Fund.