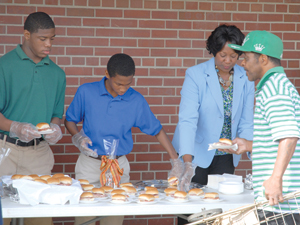 Republic Bank, which had the co-winning high bid of $800,000 for the 2010 Kentucky State Fair's Grand Champion Ham, donated the ham to the West End School, and, in turn, the students teamed up with community volunteers from Manna House to serve ham sandwiches to West End residents on Tuesday, October 19, as part of the weekly community food outreach program.
Started in 2005, the West End School is a year-'round free boarding school serving the academic and residential needs of 13 middle school boys, and is located at the former Carter Elementary School.
The school was founded to provide alternative forms of education designed for the increasing number of children in our community who are experiencing issues of social dislocation or homelessness. Middle school age students were chosen because they are believed to be at the "tipping point" both academically and socially, and it was felt that a three-year middle school program would provide sufficient time to remediate academic deficiencies.
Manna House, located at the West End School, is supported by the New Zion Baptist Church's Mission Council and other church members and serves 30-40 community members every Tuesday.
"As Kentucky's largest community bank, Republic Bank is committed to the communities in which we work and live.  We are, therefore, extremely pleased to present this ham to the West End School", stated Bernard Trager, founder of Republic Bank.
"We are proud to partner with Republic Bank, a community-minded company. The actions of their founder, Bernard Trager, are those of a true community leader, and his donation indicates his desire to impact the lives of those in need," stated Robert Blair, founder and administrator of the West End School.
"As a community volunteer, I've seen first-hand the work that the West End School has done with these young men.  I'm proud that Republic Bank has donated the ham to the West End School and that, in turn, the school is donating the ham to their local community", stated Amy Trager, volunteer and wife of Steve Trager, Republic Bank's Chairman and CEO.