Republic Bank & Trust Company, which had the co-winning high bid of $675,000 for the 2009 Kentucky State Fair's Grand Champion Ham, donated a ham from the same winning producer, Scott Farms of Greenville, Kentucky to the Blessings in a Backpack program at Roosevelt-Perry Elementary School on December 18.
Bernard Trager, Republic Bank founder and chairman of the Executive Committee delivered the ham to Stan Curtis, founder of Kentucky Harvest and Blessings in a Backpack. After getting a local chef to carve the ham and produce over 150 sandwiches, Trager then served the ham sandwiches to the students of Roosevelt-Perry Elementary School as part of their Blessings in a Backpack program on the Friday before the long holiday break.
Along with the ham sandwiches, the children received canned vienna sausages, granola bars, macaroni and cheese, apple sauce, ramen noodles and pastry treats all provided by Meijer and distributed to the children through volunteers from Republic Bank and Mark's Feed Store, a local Louisville restaurant.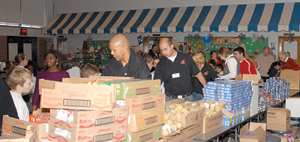 "As Kentucky's largest community bank, Republic Bank is committed to the communities in which we work and live. We are, therefore, extremely pleased to present this ham to Blessings in a Backpack and the children of Roosevelt-Perry Elementary School," stated Bernard Trager.
Since 2005, Blessings in a Backpack has provided weekend nourishment for school children on the free and reduced meal programs who may not have any or enough food on the weekends. Blessings in a Backpack currently feed over 18,500 children in 16 states.
"We are proud to partner with Republic Bank, a community-minded company. The actions of their founder, Bernard Trager, are those of a true community leader, and his visit indicates his desire to impact the lives of those in need," said Curtis.
For more information on Blessings in a Backpack, call 894-9999.