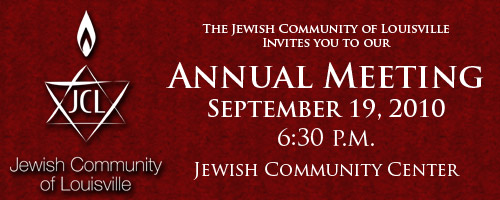 It's almost time for the big show and you're invited. Are you ready?
The show is the Jewish Community of Louisville's Annual Meeting on Sunday, September 19, 6:30 p.m. at the Jewish Community Center, and this year's program will be a real celebration, complete with champagne and hors d'oeuvres.
Ottenheimer Award winner, Louisville Metro Police Chief Robert White will be there. So will Joseph J. Kaplan Young Leadership Award winner Dr. Julie Ellis and Lewis W. Cole Memorial Young Leadership Award winner Dr. Jeffrey Tuvlin.
Arthur S. Kling Award winners Dotty Battoe and Doug Gordon, Elsie P. Judah Award winner Esther Zegart and Ronald and Marie Abrams Volunteer of the Year Award winner Fred Gross are sure to be on the scene, too.
A number of up-and-coming young stars will be feted, too, including Ellen Faye Garmon Award winner Jacob Spielberg; Stacy Marks Nisenbaum Award winners Hayley Grossman and Talia Wagner; Stuart Pressma Student Leadership Award winners Sam Cohen, Max Oppenheimer and Nathan Spielberg, and Joe Fink Award winner Sarah Ensign.
If you haven't had a chance to meet and greet the JCL's new president and CEO Stu Silberman and his wife, Alison, this is your chance.
"I am really excited to be chairing this year's JCL Annual Meeting," said Dr. Karen Abrams. "We have lots to celebrate. During the evening, we will be introducing our new CEO, showcasing a wonderful group of award winners and presenting a program for the community that focuses on our Jewish journey going forward. The JCC building will be all dressed up for the occasion." She promises some surprises too and states this won't be a "typical" annual meeting!
You'll have your chance to shine, too, because when JCL Nominating Committee Chair Craig Greenberg announces the nominees for the JCL Board of Directors, you can cast your vote for the winners.
Board nominees for two-year terms include Stuart Goldberg and Alex Rosenberg. Nominees for three-year terms include: Greg Davidoff, Dr. Julie Ellis; Angeline Golden; David Kaplan; Kate Latts; Helene Kramer Longton; Leon Wahba and William Yarmuth.
Then, witness history being made as the Board elects officers for 2010-2011. The nominees are: David N. Klein, board chair; Douglas Gordon and Jeffrey Tuvlin, vice board chairs; and Karen Abrams, secretary.
Allan Latts, JCL board treasurer, will remain in his current position until a replacement has been announced, but no longer than October 31.
For reservations and information about the Annual Meeting, please call Paula at 618-5302 or e-mail pdeweese@jewishlouisville.org.