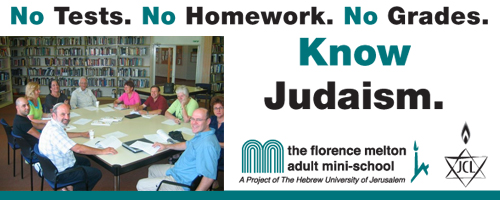 Registration is now open for first year classes at The Florence Melton Adult Mini-School. Sponsored by The Jewish Community of Louisville, The Florence Melton Adult Mini-School offers a rigorous but accessible course of Jewish study taught with a pluralistic approach that draws upon the best scholarship from all movements of Judaism.
Jews of all levels of knowledge or observance are welcome.  The curriculum is designed by scholars at The Hebrew University in Jerusalem. There are no exams, no homework, no pre-requisites.  The only requirement is the desire to learn.
The two-year, once-a-week course of Jewish study attracts people like Laura Klein who said "The lessons I have taken home from the Melton curriculum are life altering and seem to permeate into family, work and everyday events.  It is an amazing opportunity to study a non denominational Jewish curriculum that is based on discussion and requires no previous Jewish education.  At first I was intimidated as I started Melton with little prior knowledge but felt comfortable in our groups of individuals with varying backgrounds."
Many of Melton's students are like Laura, while others have studied at their synagogues or attended lectures and classes before.  Melton is different. Students are drawn to Melton because of the pluralistic approach, comprehensive curriculum, first-rate teachers and Melton's worldwide reputation for excellence.
Sign up online today at http://www.melton-online.com.
For more information and for class schedules, contact Matt Goldberg at (502) 618-5321 or mgoldberg@jewishlouisville.org.