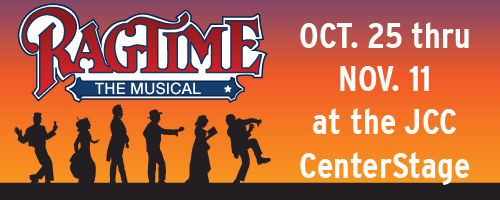 CenterStage's production of Ragtime, the Tony Award-winning musical, opened on Thursday night, and audiences are in for a real treat.
Set at the dawn of the 20th Century, Ragtime starts by painting a broad picture of the rich variety of life in America and spins an intriguing tale as the different groups cross paths and interact.
The musical flows easily from one group to another, capturing the upheaval and excitement of the time. There are three generations of an upper-class, white, Christian family who seem never to see anyone who is not like them. The father's an adventurer and the adult brother likes to play it fast and loose.
There's a group of blacks who gather at a club in the evening to escape the trials of the day while Coalhouse Walker tickles the ivories and searches for his girlfriend who fled without a word.
There's a group of immigrants, including a Jewish father and his young daughter who came to America in search of the "Goldeneh Medina" – that land where a silhouette artist should be able to make a fortune with his talent and a bit of hard work.
Mix in the notables and notorious of the decade – Admiral Robert Peary, Booker T. Washington, Emma Goldman, Evelyn Nesbit, Henry Ford and Harry Houdini – and a marvelous score that captures the spirit of the day, and you have Ragtime.
The lines start to cross when the mother from the upper-class family finds a black baby buried in her garden while he is still alive and, when the mother is found, decides to take both in. As the story progresses, the story lines intertwine and you wonder what comes next.
Lynn Ahrens and Stephen Flaherty's gorgeous Tony-winning score ranges from foot-tapping ragtime and soul-touching klezmer to soaring, heartrending ballads, Tin Pan Alley melodies and rousing anthems. When it opened on Broadway in 1998, the International Herald Tribune called it "the best musical in 20 years," and Time magazine dubbed the show "a triumph for the stage." It went on to win the 1998 Tony Awards for Best Score, Book and Orchestration and Best Featured Actress for Audra McDonald, as well as the Drama Desk and Outer Critics Circle Awards for Best Musical and Best Show.
Directed by CenterStage Artistic Director John Leffert, with musical direction by Jay Schwandt and choreography by Kate Reedy, Ragtime features a cast of 35 including CenterStage veterans Alonzo Richmond and Tymika Prince as Coalhouse Walker, Jr. and Sarah, Jeremy Moon and Emily Fields as Father and Mother, and Monty Fields as Tateh. Production designer Michael Hottois of the University of Louisville Theatre Arts Department, whose work has been seen at the Merry-Go-Round Playhouse in New York, is doing the scenic design.
Leffert notes, "Ragtime has one of the most powerful and beautiful scores in all of musical theater. It is rich in history and cleverly weaves together the threads of the story of America from many different points of view. I am very excited to bring the musical to CenterStage."
The remaining performances are October 27, November 1, 3, 5, 8 and 10 at 7:30 p.m., and October 28, November 4  and 11 at 2 p.m. Tickets cost $18 in advance or $20 at the door and are on sale now. Call 459-0660 or visit www.CenterStageJCC.org to reserve tickets for this beautiful and thrilling musical.