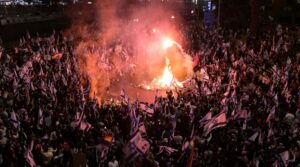 This is a developing story.
By Ben Sales
(JTA) — Israel was filled with surreal images Sunday night as thousands of people lit bonfires and gathered to protest in the streets against Prime Minister Benjamin Netanyahu and his planned judicial overhaul.
On Monday morning, those dramatic scenes were replaced by another: of packed trains and crowded roads as protesters convened on Jerusalem in an effort to sustain pressure on Netanyahu as his governing coalition appeared to teeter over the divisive judiciary legislation.
Israel's national labor union announced a general strike for Monday. Businesses and many schools were closed; universities canceled classes; and departures were grounded at Ben-Gurion Airport, leading some airlines to also cancel arrivals into Tel Aviv. According to CNN, the Israeli embassy in Washington, D.C. is also closed due to the strike.
By 4 p.m. Israel time on Monday, tens of thousands of people opposing the overhaul had gathered in Jerusalem, outside the Knesset.
A pro-overhaul rally is also planned. Members of some online groups planning those protests urged supporters to come the demonstration armed, according to Haaretz, and Public Diplomacy Minister Galit Distel Atbaryan posted a flier to Twitter, advertising shuttles to the pro-overhaul rally, that read, "They won't steal the election from us."
The protests began after Netanyahu fired his defense minister, Yoav Gallant, who had called for a monthlong pause to the court reform just days before part of it was set to become law. Gallant's termination led even more Netanyahu allies to urge a halt to the controversial legislation, something the prime minister is now reportedly considering after months of standing his ground.
"I call on all of the protesters in Jerusalem, on the right and left, to act responsibly and not engage in violence," Netanyahu tweeted Monday afternoon, his first public statement since the massive protests that began the previous night. "We are brothers."
Netanyahu's new willingness to pause the judicial overhaul came after at least three more government ministers called for the legislation to be suspended. One of them, Diaspora Minister Amichai Chikli, is responsible for the government's relationship with world Jewry, many of whose leaders have come out against the court reform. Another minister indicating his support for a pause is former Jerusalem Mayor Nir Barkat.
Those voices signaled that Netanyahu has lost the votes he needs to pass the court reform, which would sap the Israeli Supreme Court of much of its power and independence. Netanyahu has a 64-member majority in Israel's parliament, the Knesset, and had planned to bring a major piece of the overhaul to a final vote as soon as Monday. But if four of his coalition's lawmakers vote against the bill — something that now would appear likely — it would fail.
Israeli media was reporting Monday morning that Itamar Ben-Gvir, the head of the far-right Jewish Power party, was threatening to topple the government if the reform did not move forward.
The protests coalesced soon after Netanyahu announced Gallant's firing in a brief statement at 9 p.m. Israel time. Thousands of protesters blocked Tel Aviv's main highway, filling lanes that are usually clogged with traffic and lighting a bonfire on the asphalt. At least one protester brought a tent, seemingly intending to stay the night. Instead, protesters were cleared off the highway at 3 a.m., though it remained unclear if they would reopen for morning rush hour. Three police officers were injured while clearing the highway.
Protests stretched far beyond the left-wing mecca of Tel Aviv, and took place in cities across the country. In Jerusalem, outside Netanyahu's residence, protesters were hit by water cannons, as were protesters in Tel Aviv. There was a similar — if smaller — protest with a bonfire in Kiryat Shmona, a small city in Israel's north that just months ago voted for Netanyahu's coalition by an overwhelming margin. A protester was hit by a car in the city of Gedera.