It was a time to celebrate. No, it wasn't a Jewish holiday, but the celebration had aspects of one. As Jews, we are commanded by God to help those in need. It is for us an act of justice. And that's what Operation Save a Life was all about. We gathered on June 23 at Jewish Hospital to help a former Lost Boy of Sudan reunite with his wife and three daughters.
There was food, of course. There was music made possible by the Jodi Feld Lapin Fund of Adath Jeshurun and arranged by Cantor David Lipp, who also performed.
The call went out to raise the money needed to help Martin Naihl. And the Jewish community, spearheaded by Rabbi Robert Slosberg of Congregation Adath Jeshurun, responded. Scores of people donated to the Adath Jeshurun Pikuach Nefesh Fund of Jewish Hospital & St Mary's Foundation. Enough money to do the job.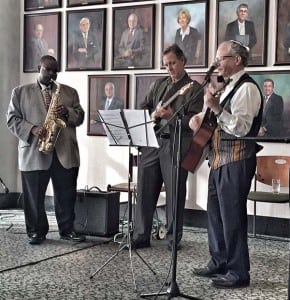 When Sudanese militia attacked in the 1990's, Martin, like thousands of others, fled and became one of the legendary Sudanese "Lost Boys" who drifted unaccompanied through one peril after another and eventually to refugee camps, first in Ethiopia and then in Kenya.
Over the years, he married and had children. He was one of the lucky few to make it to the United States, and luckier still to Louisville. Martin, who now works as a surgical technician at Jewish Hospital, spoke movingly about the plight of the Lost Boys of Sudan. He expressed the feeling that he has found a home here in Louisville and is no longer lost.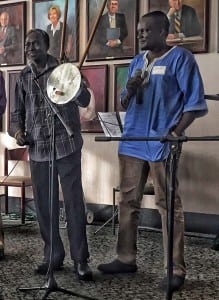 But, bringing his family to the United States has proven difficult and costly. Now, through the efforts of Rabbi Slosberg, Cantor Lipp, the Jewish Hospital & St Mary's Foundation and especially the generosity of Louisville's Jews, the long delayed reunion is in sight.
Martin's wife and three daughters between the ages of 2 and 9 are in Uganda. Martin has raised a fifth of the money needed to bring them to Louisville and our Jewish community raised the rest.
In fact, the community raised enough that Martin should be able to keep the portion he raised for use when his family arrives in Louisville.