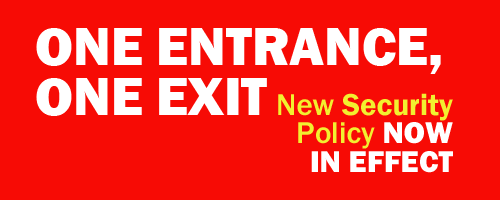 Main Doors Open on Saturdays Starting March 4
One Entry/One Exit Policy to Keep JCC More Secure
Starting March 4th, the JCC of Louisville will put new policies in place to upgrade the  security of the building. The JCC will move to a ONE ENTRY/ONE EXIT system. Beginning Monday, the main doors by the stone arches will be the only entrance and exit, seven days a week. The door by the Outdoor pool will no longer be used on Saturdays. The elevator at the front of the building will remain available for those with disabilities or strollers.
The new policy will require all JCC members to scan their membership card before entering the building. If you have misplaced your JCC Membership card, please see the Membership office and we will give you a new one. We will also make sure members have a current picture on file. Guests to the building will be asked to check in at the main desk.
There are many doors throughout our building that will be designated as Emergency Exit ONLY! These doors have been clearly marked in order to familiarize everyone before we activate the alarms on March 4th. We ask for your cooperation in proceeding to the main Entrance/Exit in order to maintain a secure facility.
New cameras were installed in the past two weeks, which allow us to monitor more locations throughout the building. The cameras were paid for by a generous grant from the Kentucky Colonels and a generous anonymous contribution.
This is just the beginning of our efforts to provide you with a secure and safe environment on our campus. We will be updating you on a regular basis as we continue to upgrade the facility for your safety. We will continue to research new security protocols and systems that will not only protect us, but also provide controlled and convenient access into and out of our building.
Thank you for your cooperation. Your safety is our priority.