(see event photos below)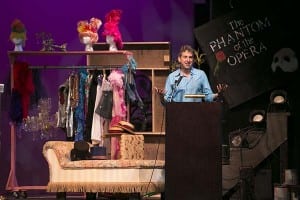 When I hear the words "Nothing Like a Dame," the tune from one of my father's old records runs through my head and continues, "nothing in the world. There ain't nothing like a dame that is anything you can name."
So when the JCC announced a Mother's Day brunch on May 10 with food by Café Fraiche, a short revue with some favorite CenterStage performers and a special presentation by Eddie Shapiro, author of a book titled Nothing Like a Dame with stories about some of Broadway's leading ladies, of course, I wanted to go.
I was not disappointed.
The auditorium was bustling with people celebrating Mother's Day. The mimosas served by CenterStage personnel and volunteers were the perfect compliment to the elegant brunch buffet. CenterStage Artistic Director John Leffert emceed the revue, during which four members of the company performed with the panache audiences have come to expect at the JCC.
Glenna Godsey performed "Everything's Coming up Roses" from Gypsy and famously played by Ethel Merman, Angela Lansbury, Betty Buckley and Patty LuPone. Tymika Prince presented "Kiss of the Spider Woman," from the play of the same name and played by Chita Rivera. Jessica Adamson did "Life of the Party" from The Wild Party from a role played by Idina Menzel. And Kate Reedy rounded out the set with "Astonishing" from Little Women famously played by Sutton Foster.
Shapiro, whose book includes interviews with all of these women, was a delight. Outgoing and candid, he gave a brief introduction about how the book came to be – how a brazen, young, aspiring writer managed to get interviews with stars from Idina Menzel to Carol Channing. And then spent the rest the time fielding questions from the audience. He had such a good time doing it that everyone in attendance had a good time, too. And when it came time for his book signing, the available books were snapped up within minutes.