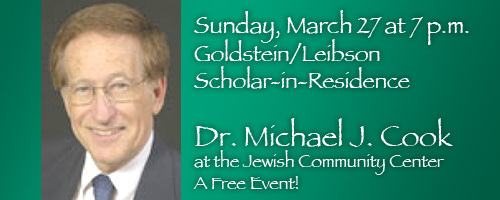 Once a year, the Jewish Community of Louisville's Goldstein/Leibson Scholar-in-Residence program brings a first-rate Jewish scholar to Louisville to engage community members in study and discussion. This year's program, on Sunday, March 27, will feature Dr. Michael J. Cook, a professor of Judeo-Christian Studies at Hebrew Union College.
He will present "Jews, Jesus and 'Gospel Dynamics': The Future Is No Longer What It Used to Be" at 7 p.m. at the Jewish Community Center. This PowerPoint presentation will introduce the community to Dr. Cook's new book, Modern Jews Engage the New Testament: Enhancing Jewish Well-Being in a Christian Environment.
"Dr. Michael Cook is not only the leading Jewish scholar in the field of Christian Scripture, he also is a compelling speaker," said Rabbi Stanley Miles. "He is not afraid to speak his mind and take on issues of controversy and sensitivity.
"Generations of rabbinic students and graduate students have benefitted from his high standards and superb scholarship," he added.
Dr. Cook is the Sol & Arlene Bronstein Professor of Judeo-Christian Studies at Hebrew Union College-Jewish Institute of Religion, Cincinnati campus, and the only rabbi in America with a Full-Professorial Chair in New Testament. In 2003, he was one of seven scholars selected by the Catholic Bishops to assess the accuracy of the advance script of Mel Gibson's "Passion of the Christ."
He serves on many advisory boards in Jewish-Christian relations, and has received an "Excellence in Teaching Award" sponsored by the Greater Cincinnati Consortium of Colleges and Universities. He has addressed leading scholars of the Southern Baptist Convention and the Episcopalian Presiding Bishop's Advisory Committee on Christian-Jewish Relations, as well as assemblies of Air Force Chaplains at the United States Air Force Academy.
His numerous publications treat evolving Jewish views of Jesus and Paul, studies on the various Gospels and on a wide spectrum of specialized subjects including the trial of Jesus, images of Judaism in Christian Art, the history of anti-Semitism, and the role of Passover in modern Christianity. He travels widely, addressing Jewish and Christian audiences, including congregations as well as university academicians, clergy, and seminarians throughout North America.
He has served as a member of the Executive Board of the Central Conference of American Rabbis, has five children, and he and his wife spend a major portion of each summer working with Jewish youth at Jewish camps.
His new book, Modern Jews Engage the New Testament, (Woodstock, VT: Jewish Lights, 2008) is so popular that it is already in reprint. The eighty-four diagrams from this text are reproduced within a separate teaching manual (designed for four courses and six lectures) entitled Companion Figures: a Visual Aid for Teaching Modern Jews Engage the New Testament (same publisher).
The Goldstein/Leibson Scholar-In-Residence program presents nationally recognized scholars and educators who lecture on a variety of Jewish themes and subject matters. The program is underwritten by funds established at the JCC and the JCL's Foundation for Planned Giving by Nicole and David Goldstein and Phyllis and David Leibson.