(see below for photo gallery)
The United States is a place where immigrants have come for centuries to make new and better lives for themselves. Here in Louisville, a bustling immigrant population has helped make this city incredibly unique and diverse. Jewish Family & Career Services, originally founded to resettle Jewish immigrants, still works with immigrants today.
To honor immigrants and refugees who settled in Louisville and have made a difference through their professions, impacting our community and often beyond, and to connect with the agency's mission, JFCS presents the MOSAIC Awards annually. The MOSAIC Awards are an acronym that stands for representing Multicultural Opportunities for Success & Achievement In our Community.
On May 21, the program celebrated its 10th anniversary at the Louisville Marriott Downtown. Honorary chairs were Jerry and Madeline Abramson. There were 440 people in attendance, which is a great increase over the attendance of 350 in 2014.
The JFCS Navigate Enterprise Center Business Showcase, held before the dinner and awards program, featured 10 new microbusinesses that received business training and loans through the program. The showcase allows these entrepreneurs the opportunity to market their businesses and to gain new clients.
The winners of the 2015 MOSAIC Awards are Lalit Sarin of India, Luis David Fuentes of Cuba, Van Tran of Vietnam, Dr. George Digenis of Greece and John Rosenberg of Germany.
Lalit Sarin
Lalit Sarin wanted to pursue his dream of getting an education, and his dream came true when he attended the University of Wisconsin, where he got his Master's degree in mechanical engineering. He got a job at GE's Appliance Park in Louisville, and was part of an early team that implemented process controls not seen before at the plant. His work in engineering and quality control was instrumental in ensuring design performance and safety.
In 1982, Sarin raised the capital to purchase Valley Industries in Shelby County and promised local authorities he would keep jobs there. He led Shelby Industries to be a successful company with 30 consecutive years of profitability. His leadership in manufacturing and small business has positively affected state and national policy.
His core values, being generous, providing for others and lending a helping hand to those in financial need inspired him to give back to his community through generous scholarships that he established at the University of Kentucky, University of Louisville and University of Wisconsin.
He has helped other entrepreneurs by providing wisdom, experience, mentoring and investing his own money in their businesses ventures. He was appointed the Kentucky representative to the 1995 White House Conference on Small Businesses. He has also served on the U of L Foundation Board of Directors, was a Forum Fellow at the Courier-Journal and has served on many other local boards.
"When I came here, I made a commitment that to be successful, I must participate in society," Sarin said. "Because I take so much form that society, I want to give back to something."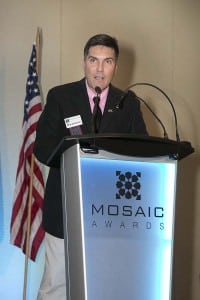 Luis David Fuentes
Luis David Fuentes is a strong voice in the Latino community in Kentucky. He grew up in Cuba, and several of his family members still live there.
He worked in Chile as an air quality engineer, then immigrated to Kentucky in 2000.
Luis is a professional environmental engineer, working with the environmental protection division for air quality for the state of Kentucky. For the last nine years, he has been involved in issuing air permits for facilities state-wide. He also makes suggestions and recommendations for reducing air pollution to companies across the state.
However, his passion is being owner/editor of the Latino magazine, El Kentubano.
Today there are more than 75,000 Latinos in our community, and 15,000 of them are Cubans looking for services and businesses with staff who speak Spanish.
In 2009, Fuentes realized that there were not enough resources in his native language, and he started to put together information about Cuba, as well as tips and advice on how to be successful in this new culture. He printed 100 copies of a 16-page tabloid, and that became El Kentubano. Today, El Kentubano is a 60-page magazine and publishes 8,000 copies each month that are distributed free in more than 150 locations frequented by the Hispanic community.
Through El Kentubano, Luis has worked very closely with many non-profit agencies promoting the different programs available to Latino immigrants and minorities. El Kentubano has also supported many new small businesses owned by Latinos through articles, free advertising and features. Through El Kentubano, Fuentes created a cultural group that brings together artists in the Latino community.
"Thank you to the United States," Fuentes said. "Thank you on behalf of the immigrants, especially form the Latin community, thank you for receiving us, for supporting us, thank you for giving us all the opportunities and schools. … On behalf of them, thank you. God bless America."
Van Tran
Van Tran and her brother were two of thousands of Vietnamese boat people who fled after the communist takeover of South Vietnam. She worked in the rice business at a young age to help support her family, which included eight brothers and sisters.
Her father was able to raise enough money for Van and one brother to take part in a dangerous escape with 74 other people on an overloaded fishing boat. Pirates ransacked the boat and took their belongings and supplies. They were lucky to survive the journey.
After staying at a refugee camp in Thailand for 20 months, Tran and her brother were granted U.S. refugee status and relocated to Louisville with the help of Catholic Charities, and they were placed with a foster family. Eventually, Tran and her husband built a beautiful and successful life. Her mother immigrated just 17 years ago, and they live in a traditional multi-generational household.
From an early age Tran was self-motivated, energetic, ambitious, generous with her time and devoted to the Louisville community. She graduated from the University of Louisville Speed School of Engineering and worked as an engineer at Humana for 12 years and at UPS for four and a half years. Afterwards, she went into the real estate business and opened an office in the heart of Louisville's Vietnamese community.
She is focused on assisting immigrants of all backgrounds in her professional and personal life. She also established the Van Tran Insurance Agency. In both businesses, Tran was able to help hundreds of immigrants from Vietnam, Laos, Cambodia and Burma find their dream homes and provide insurance for them. Recently, she put together the first Vietnamese news team that broadcasts local stories on the established Vietnamese language network, SBTN.
She is passionate about honoring veterans of the Vietnam War, and she also hosted an appreciation dinner for Vietnamese and American veterans that brought together these veterans to focus on many common goals.
Along with these contributions, Tran is known throughout the community as someone who is a resource, someone who lends support in times of need. This service ranges from navigating funeral arrangements to simply serving as a listening ear. She is always generous with her time and seems to have endless energy in her commitment to the community.
After the presentation about Tran's community involvement, there was a video note of love from her daughter, who is serving overseas in the military.
"Honestly, it is hard for me to believe that I am receiving this award," Tran said. "Can you imagine me as a little girl … I did not even believe that America even existed or that the four seasons of the year were real!
"Aside from the sadness that surrounds all wars," Tran continued, "I grew up seeing American soldiers helping and caring for the Vietnamese people. They were my heroes. After coming to the U.S. in 1984, the American people once again opened your hearts, homes, arms to accept me as one in their homes."
Dr. George Digenis
Dr. George Digenis believes that one should live life to fullest and take advantage of all opportunities. His roots began in a tight-knit Greek family that encouraged education and professional development.
He got his Bachelor of Science degree in pharmacy at the American University in Beirut, then he journeyed to the University of Wisconsin to pursue his American dream and received doctorate in medicinal chemistry. He was invited to join the newly created University of Kentucky College of Pharmacy in 1967. He soon became chair and director of the department, and, within five years, the college achieved top-three status.
He served five years as senior scientist at the Sloan Kettering Institute for Cancer Research. In 1997, he received an honorary doctorate from the University of Athens, Greece. He has published more than 250 papers and owns 18 patents in the area of solid phase reactions, synthesis of compounds, drug metabolism and more.
He is internationally known for tracking the efficacy of drugs as they are synthesized by our bodies. He is best known for making drug formulations like the first vaginal gelatin capsule against the transmission of AIDS.
He cofounded the only pharmaceutical company of its kind in Louisville in 2001, US WorldMeds, which creates pharmaceuticals that address unmet medical needs or overcome limitations of existing products. The company has grown from three to 150 employees.
"I have received many awards," but this one is special. The MOSAIC Awards, "helps immigrants to be better and to come here and participate in this wonderful country," Digenis said. "It gives us a lot of impetus to be better and to contribute to society. For that, I'm very grateful."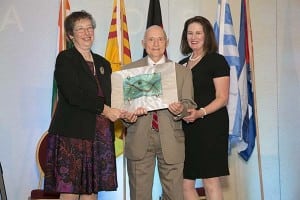 John Rosenberg
As a 7-year-old child, John Rosenberg witnessed Kristallnacht, in 1938 in Germany. He saw the Nazis go into the synagogue next door to his house and take out all the Torahs and build a bonfire with them. His father was taken to Buchenwald concentration camp, but miraculously returned 10 days later. Given 30 days to leave the country, the family fled to Holland and spent a year in a Dutch internment camp before taking the last ship to the United States before World War II.
They eventually settled in Gastonia, NC, where he experienced a relatively normal childhood in the Southern culture of segregation.
In the U.S. Air Force, where he served as a navigator, he had his first experience of integrated living and the American dream – civil rights for all individuals. After seeing the persecution of Jews in Germany and the effects of segregation in his new country, Rosenberg became a lawyer and joined the U.S. Justice Department's Civil Rights Division in 1962 under Robert F. Kennedy. In 1964, he was assigned to the team of trial lawyers prosecuting members of the Ku Klux Klan for the murders of three civil rights workers in Mississippi, which resulted in convictions.
In Alabama and Mississippi, Rosenberg successfully prosecuted cases of willing persecution and cases involving the poll tax and literacy tests used to keep African-Americans from voting.
After eight years, Rosenberg moved to Appalachia and devoted his life to civil justice for some of the poorest people in Kentucky. From 1970-2002, Rosenberg led the Appalachian Research and Defense Fund of Kentucky, AppalReD, a non-profit legal services agency serving a 37-county region. He took on coal companies and federal agencies, and provided free legal aid to black lung and domestic violence victims.
In 2001, he founded the Appalachian Citizen's Law Center in Whitesburg, to take over AppalRed's environmental, mine safety and black lung work.
Rosenberg has organized and chaired a non-profit housing group, which focuses on housing conditions for citizens in Floyd and neighboring counties. Using volunteers, the non-profit has built 75 houses, repaired 250 homes and build more than 50 wheelchair ramps.
As member of the board of regents at Morehead State University, Rosenberg advocated for better educational services for Kentucky's mountain communities, which resulted in the Morehead branch in Prestonsburg.
In 1996, Rosenberg also had a dream of an eastern Kentucky science center for science math and technology, a place where students could be turned on to learning and the wonders of science. The East Kentucky Science Center and Planetarium opened its doors in 2004. About 10,000 students and citizens pass through its doors each year.
Foregoing a much higher income and the prestige of high-profile law firms, Rosenberg chose to use his mind to offer brighter futures and hope to many who needed only a little boost along the way.
"I couldn't help but take a deep breath as I listened to stories of wonderful people who are co-honorees," Rosenberg said. "When I heard the stories of all these other honorees here, I thought of how amazing it was for these people to come to a land where the culture is totally different. …
"We are so grateful to be in this country. Even though there is so much work for all of us yet to do to create a just society in this country, it's still the very best country in the world."
Entrepreneur of the Year Award
Sheikh Anas Ahmed, originally from Pakistan, received the Entrepreneur of the Year Award. After spending several years in Thailand, he came to Louisville three years ago. Before coming here, he had been a student and had worked in his family's jewelry business.
When he arrived, he began working with JFCS's Navigate Enterprise Center, and two years later, opened Road Riders Taxi. Ahmed said that working with Navigate helped him understand business practices and regulations in the United States. Ahmed said he looks forward to the future growth of his business, but his main focus in on providing quality service.
Jeff and Phyllis Osbourn Scholarship
At 4 years old, Dragan Petri had to flee Bosnia and Herzegovina with his family during the Yugoslavian civil war.
The family eventually landed in Louisville. His strong work ethic has resulted in many years on his school's honor roll and earned him membership in the National Honor Society. He now attends Spalding University and will graduate with his Master's in occupational therapy in March 2016.
Petri became interested in occupational therapy after working with Alzheimer's caregivers. He is a strong believer in neuro-rehabilitation and positive thinking, and he wants to spend the rest of his life helping others transform their perspective on life into a more positive and optimistic viewpoint.
The Jeff and Phyllis Osbourn Scholarship at Jewish Hospital & St. Mary's Foundation offers grants to an immigrant or refugee pursuing a career in nursing or other high-demand healthcare fields. Petri received a $1,000 scholarship.
MOSAIC Award Artist Dan Barnes
Each year, JFCS commissions an artist to create one-of-a-kind MOSAIC awards for its honorees, and this year's awards were created by Dan Barnes of Henderson County. Barnes earned his Bachelor's degree in human environmental design from the University of Kentucky. The love of creating his own designs was what led Barnes to open his own business in 1986.
For more than 15 years, Barnes has earned a reputation in the design community for his design flair and top-quality craftsmanship in his upholstery and furniture design business. His upholstered pieces have been featured in several interior design shows.
Seeking another creative outlet, Barnes began experimenting with stained glass several years ago. After studying the craft from Laura Hallock in Lexington, Barnes began creating his own original designs combining light, color and texture. Barnes was awarded top honors for his stained glass in local art shows.