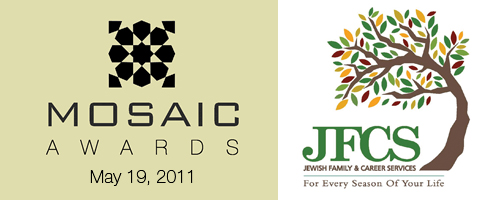 On Thursday, May 19, Jewish Family & Career Services will honor five individuals at the sixth annual MOSAIC (Multicultural Opportunities for Success and Achievement in our Community) Awards event to be held at the Henry Clay Hotel at 5:30 p.m. The awards salute New American immigrants and refugees who have made significant contributions to their profession and to our community.
This year's honorees include Leon Wahba, who was born in Egypt and is a retired international banker and volunteer leader with the Jewish Community of Louisville; Paul Gerrard, originally from Great Britain, is director of corporate affairs and chairman of Humana's Corporate Social Responsibility Council; Suhas Kulkarni, from India, is founder and CEO of Olmnisys, chairman of the Indian Professional Council of Kentucky and board president of Crane House; Miguel Lagunas, from Mexico, is a retired electrical engineer and founding member/volunteer leader of many Hispanic/Latino community organizations; and Saleem Seyal, M.D., of Pakistani descent, is an associate clinical professor of medicine at the University of Louisville School of Medicine, an interventional cardiologist and senior partner at River Cities Cardiology and medical director of preventive cardiology at Clark Memorial Hospital.
JFCS also will recognize other first generation Jewish individuals who helped establish Louisville's Jewish community. Family members can also honor their ancestors, many of whom came to our city as refugees and immigrants, by becoming Family Tribute sponsors. The tributes also will be a part of the video presentation to be shown during the awards ceremony.
Honorary chairperson of the event is Bill Samuels, Jr. retired president of Maker's Mark. Jewish Hospital HealthCare Services is the New American Sponsor and WLKY is the Media Sponsor. MOSAIC Sponsors are Maker's Mark and PharMerica. Proceeds from the event will benefit JFCS.
Individual tickets to the MOSAIC Awards cost $100 per person (table sponsorships are still available for $1,500) and numerous levels of sponsorships are available to individuals and businesses. Tickets can be ordered online at www.jfcslouisville.org. For more information about how to create a Family Tribute, purchase tickets or provide sponsorships, please contact Beverly Bromley at 452-6341, ext. 223.