For Meryl Kasdan, the Team Trek to Israel was more than just a motivational tool. Working out regularly is key in her struggle with Dystonia, a disorder that affects her limbs. As a regular at the JCC, Team Trek to Israel provided the motivation for her to continue exercising regularly.
"It is hard to stay motivated when you are working out alone," says Kasdan. "With the Trek, my team can pick me up when I am tired."
Dystonia is a neurological disorder characterized by involuntary muscle contractions. Meryl's left side is often wrenched into abnormal, sometimes painful positions. Regular exercise helps her maintain her muscle mass and resist the movements.
The JCC's Team Trek to Israel finished on Yom HaAtzmaut, Wednesday, April 25th. Thirty-eight five-person teams attempted to trek 6200 miles between Kentucky and Israel by earning 15 miles per 30-minute workout at the JCC. Seventeen teams finished the Trek.
Meryl and her husband Frank were on team Way To Go, which finished the trek, earning more than 9000 miles. Not knowing their teammates, Meryl says the trek was a great way to meet people and to get encouragement. In the end, the most important thing to the Kasdans is their friends at the JCC, "I love the center for the people and the group interactions. Most of our social life is here," says Meryl.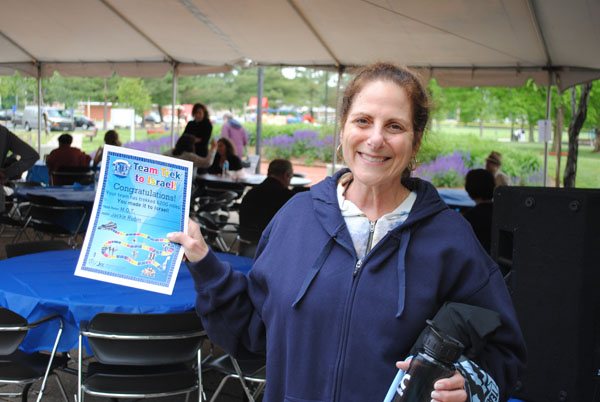 Together, participants exercised for more than 7050 hours at the JCC, almost 37 hours per person. If a single person started at midnight on January 1st, he would not finish exercising until almost November. The top team was M.O.T., which accumulated nearly 19,000 miles. Team Loyal followed them very closely with almost 18,000 miles. Together, the two teams exercised almost 1.5 times around the circumference of the world at the equator.
Teams were encouraged to log any workout at the JCC, including group fitness classes, treadmills and ellipticals. They could also get credit for time spent at the indoor pool or playing basketball and racquetball. Each week, teams were given the opportunity to get bonus miles by answering Israeli trivia questions.
After the success of the first Team Trek, the JCC is planning a second journey in the fall.