You may have seen the painted handprints on the Halfway House outside at The J. Or maybe you've seen the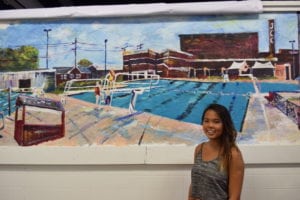 beautifully painted mural on the wall at the indoor pool area where a panorama of a summer scene in the outdoor pool area is depicted in strokes of paint.
Meet 18-year-old Mahalia Smith, the painter behind it all.
"I painted the Halfway House mural for The J's 125th anniversary last summer," Smith said. "It was really neat because there were Jewish kids and non-Jewish kids that put their handprints on the wall."
Smith said that, as part of her volunteer project in the National Honor Society, she wanted to paint a mural that represented just how many lives The J has touched in the Jewish community and throughout greater Louisville – including her own.
Smith said she first got involved at The J when she was 14 and her mom had just lost her job.
"I decided I needed to take responsibility for my personal expenses so my mom would have less to worry about while she was looking for a new job," Smith said. She interviewed at The J and was hired as a camp counselor, then switched over to the aquatics department. She's been a swim instructor ever since.
Smith, who is fluent in German, said she isn't Jewish, but she was very keen on working at The J because of her interest in Nazi Germany and the Holocaust. "I studied the subject at a summer intensive program a couple years ago and I also received a scholarship from the State Department to study and live in Germany last year," she said. "Now, I have several lifelong Jewish friends who are members and work at The J."
Smith said that the genocide of the Jews and the Holocaust deeply interest her because her history is quite similar.
"I was born in China while the one-child policy was still in place. I was one of those female children who got left on the streets, but luckily I was saved and taken to an orphanage where I was adopted by my American mom," Smith said. "While I can't say I have experienced a genocide, I have experienced a "gendercide."
Woven into American culture, Smith found her niche in the Visual Arts Program at Noe Middle School and continued her artistic career at Manuel in the Visual Arts magnet school. Aquatics Director Johnny Kimberlin recognized Smith's artistic side and wanted to put them to use.
"I knew I wanted to freshen the look of the indoor pool and that Mahalia was talented because she painted the 125th mural by the softball fields," Kimberlin said. "She's had many experiences at The J and I knew she could bring the new painting to life because of them."
"Once Johnny [Kimberlin] saw it, he asked me if I could paint something around the pool area," Smith said. But her initial ideas weren't what she ended up deciding to paint on the wall.
"I worked on these ideas and finally I just tore them up. I walked outside and took a panorama picture of the pool area and that's when I knew what I would paint," Smith smiled.
One month later, a magnificent panoramic pool scene is painted on the walls.
"I've received great feedback from our members!" Kimberlin said. "The mural will remind them of our great outdoor pool during the cold days of winter."
Smith's paintings are excellent, but she isn't planning to major in art.
"Perhaps I'll take a few art courses at school or do my own projects outside of school," she said. "I love art but I want to focus on double majoring in German and International Relations. I want to work at the U.S. Embassy in Germany after I graduate."
She'll be off to George Washington University in Washington D.C. in a couple of days. But, before she leaves, she said she has one other thing to do.
"I want to add the Gators swim team logo to the mural," she added.