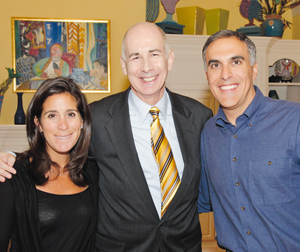 [Archived from January 23, 2009]
Michael Leiderman, award –winning broadcaster, producer and raconteur for more than 40 years (the last 30 in Chicago where he runs his own production company) – was the guest speaker at two events held for our community's young leaders on Sunday, January 11. The Ben Gurion Society event for the Federation Annual Campaign was held at the home on Kate and Allan Latts at 10 a.m. and the Young Leadership Development class met at the home of Julie and Greg Strull in the evening.
Leiderman's broad range of media experience – from executive producer of "Chicago Tonight" to producer of "Chicago Stories," winner of five Midwest emmys and Midwest reporter/producer of "Entertainment Tonight" and writer of three recent episodes of the History Channel series "Gangland") makes him in demand as a public speaker throughout the country. He has also hosted a weekly Jewish affairs program on NBC and has produced videos and hosted telethons for the March of Dimes, the Chicago Jewish Federation and other non-profit organizations.
Although his intent was to trace the portrayal of Jewish characters on television through the ages, Leiderman actually began his presentations by admitting he is a fan of the recent vintage "Desperate Housewives," and went on to relate the following story line. Actress Marcia Cross' character on the show, Bree Hodge, is not Jewish, but desperately wants to have her new son circumcised. When her husband refuses, she takes her child to a friend's brit milah ceremony and befriends the mohel by telling him her maiden name is Rabinowitz and requests that he perform a "double header."
But TV is barely 60 years old, he pointed out. In its beginnings in the early 1950s, he joked, you had to get off the sofa to change the channel. Jews in those early years were particularly associated with a show called "The Goldbergs," created by writer/actress Gertrude Berg who played the much loved New York Jewish housewife, Molly Goldberg. The show was a hit because of it universal theme of first generation immigrant values and struggles to become part of the American scene. Coincidentally, all three major networks were run by Jews.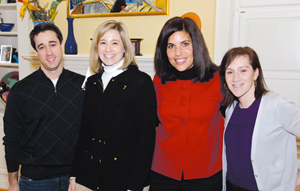 He took both groups through the '50s when the networks generally steered clear of portrayals of ethnic characters that might offend people and the '60s, where a character's Judaism might be shown as part of life.
For example, in an early 1960s show called "Car 54 Where are You?", Leiderman recalled an episode where a child in their precinct was having a bar mitzvah. The child's father is a slum lord who has no friends and is afraid no one will come to his child's bar mitzvah. The policemen come to his aid and round up a synagogue full of people – prisoners, fellow police officers, tenants, etc. – to attend and the child's father is so moved by the caring that he mends his evil ways.
In 1970s shows like "Welcome Back Kotter," where the lead was Jewish, the story line did not reflect his religion in any way. The much later Seinfeld was treated much the same way.
Shows in the 1980s including "Hill Street Blues" and "Picket Fences" had Jewish characters as did "Northern Exposure" in the 1990s as did later shows like "West Wing," "Law and Order" and "Boston Legal."
One of Leiderman's favorite stories is about LA Law, actor Michael Tucker's character, Stuart Markowitz, whose bride-to-be has an anti-Semitic mother. He asks the mother if a Jewish person had ever done anything bad to her. When she answered in the negative, he went to her curio cabinet and threw the contents to the floor. "There," he says, "now one did!"
Leiderman said he wanted to get up and cheer when he saw that one.
At both events, Leiderman fielded questions.
The Ben Gurion Society is open to members of the Jewish Community Federation's Young Adult Division who make an annual commitment to the Federation Annual Campaign of at least $1,000. Allan Latts is chair of the Ben Gurion Society.
Young Leadership Development is a two-year program during which young adults meet to learn leadership skills and about the organized Jewish community. Most participants also serve an internship on a Jewish community board, and they are encouraged to participate in a mission to Israel. Julie Strull and Eric Bass are chairs of the current class.