[by Shiela Steinman Wallace]
Members of the King David Society (KDS) are the pacesetters for the annual Federation Campaign, who make minimum commitment of at least $25,000. On Tuesday, November 1, they gathered at the home of KDS Chair Joe Hertzman for an update on the Jewish Community of Louisville and a briefing from Susan Stern, Jewish Federations of North America National (JFNA) Campaign Chair Designate.
JCL President and CEO Stu Silberman provided a brief update on what's happening at the agency. He noted that the Strategic Planning Process is getting underway and a number of best practices from the business world have been implemented to move the JCL forward.
He cited improvements in marketing; broadening revenue sources; collaboration with other agencies; administrative, governance and policy changes; and financial oversight that has resulted in reducing the JCL's deficit by almost 90 percent. He also highlighted successful programming including the Jewish Community Relations Council, summer camp, early childhood, teen connection, Hillel, the Lenny Krayzelburg Swim Academy and others.
With respect to Campaign, Silberman said the agency is moving from expectation to invitation and is widening the tent to bring in more people. He recognized this year's chairs: 2012 Federation Campaign Chair Ralph Green, King David Society Chair Joe Hertzman, Women's Philanthropy Chair Kate Latts, Young Adult Chair Ariel Kronenberg and Ben Gurion Society Chairs David and Elizabeth Kaplan.


As the evening's host and KDS chair, Hertzman challenged those present to take the time to really understand what the JCL does. Hertzman, who chaired or co-chaired JCL's the Planning and Allocations Committee for the past two years, explained that his work on the committee provided a thorough education about the community for him. "I really got it," he said.
Hertzman then introduced the evening's speaker, Susan Stern, who has a long history of leadership with the JFNA and UJA-Federation of New York Campaigns and Boards and is a community activist and political advocate as well.
Her comments for the evening revolved around the Maya Angelou quote, "Life is not measured by the number of breaths we take, but by the moments that take our breath away."
Examples Stern cited include, going to Russia to deliver a food package and seeing a smile in return or walking into a room with 3,000 young adults on Birthright Israel at a forum with an IDF soldier. "The work we do creates those moments," she said. They happen in Russia, Ethiopia, Syria and many other places around the world. We bring new life and freedom and we reunite families.
A life-changing moment for Stern happened in 1991 when she witnessed Operation Solomon – Israel's covert operation that in 23 hours brought 14,000 Jews home to Israel from Ethiopia after 2,000 years of longing.  "It was like witnessing a miracle," she said. "I've never been so proud to be part of the Jewish community."
Bringing the Ethiopian Jews to Israel was just the start. Educating both children and adults to function in a modern, high tech society was the next challenge. PACT, Parents and Children Together addressed that issue. Today, Ethiopian children are testing at grade level thanks to the work of the Jewish community.
Stern also told of a man she met in a soup kitchen in New York. For 34 years, he worked as a cantor, but he had no pension. He came to the soup kitchen for social contact and food. She asked if he wanted to lead a service once a week. He gladly accepted, and the opportunity gave him dignity.
The Jewish community, through Federation Campaigns has helped the Russian Jewish community reclaim its identity – providing Jewish education and camping experiences that generate pride.
The Jewish community is active in Greece today where the economic crisis is forcing many to leave Jewish Day Schools and other institutions.
Here at home, Stern said, the Jewish community is losing 100 young people a day because they haven't connected with their heritage. Through the Campaign, however, we are supporting Jewish camps, Hillel and Birthright Israel to strengthen those connections.
Another place we're making a difference, Stern explained, is Cuba. Everyone there is faced with incredible poverty. A typical family gets three quarters of a chicken and five eggs per month, she said. When she visited, she said her group called the Jewish community together and 94 people turned out. They hadn't been together since 1968, but that week, they learned "L'cha Dodi" two verses at a time, and now they celebrate Shabbat together and sing.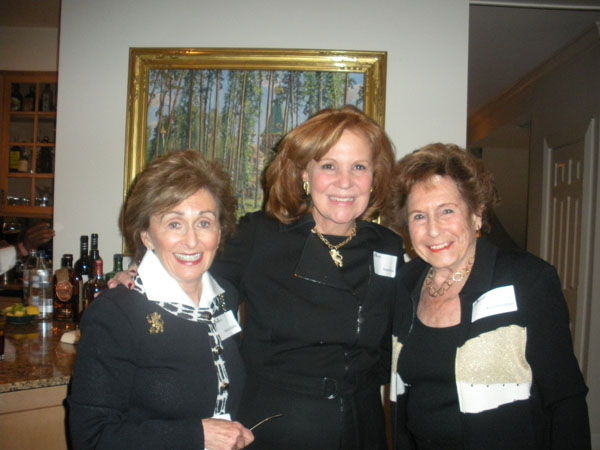 In Russia, she walked into a building where the light was out in the stairwell. When asked why they didn't replace it, the residents replied, why would we want to change a light bulb when we can't afford food. Sometimes, she was told, the residents went to the market just to imagine buying the food they couldn't afford.
Stern also spoke of poverty in Israel. One of the programs that has been started is Teach for Israel. It identified two challenges in some areas of Israel: teachers are not respected and the children are very poor. A recruitment effort generated 1400 applicants for 90 teaching positions, and the program was able to choose motivated, great teachers to work with these children to give them a chance to succeed.
"You have the capacity to change the world," Stern said. "You are the leaders." And she challenged those present to strive for the time, "with all our blessings, that we will know we've done all we can do."
Ralph Green and Joe Hertzman each spoke briefly, encouraging those present to support the Campaign and to be involved in the community.
JCL Board Chair David Klein also spoke up and added 150,000 sky miles to his Campaign donation to create a bank of airline miles that can be used to send Hillel students and others to Jewish events like JFNA's General Assembly and TribeFest. Several others matched his donation; and Stern said she plans to take the idea to other communities across the country.
{gallery}Community/2011/112511/KingDavid_Event{/gallery}