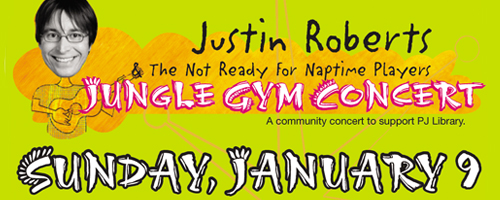 The Jewish Community of Louisville is pleased to announce that Justin Roberts and his Not Ready for Naptime Players will present their Jungle Gym Concert featuring favorites from their newest CD on Sunday, January 9, in the auditorium in the Jewish Community Center. Doors will open at 1:30 p.m. and the concert will begin at 2.
If there is a super star in the world of music for young children, it just might be Justin Roberts. His bright, playful songs get children up and moving, and his shows across the country sell out.
Please bring a new or gently used book to donate to Kosair Children's Hospital.
Roberts began his music career with a Minneapolis-based indie-rock band, but after "moonlighting" during the day as a Montessori preschool teacher, he soon turned his attention to the next generation of fans: his students.
The children responded enthusiastically and inspired the budding musician to record some of his songs and send them out to a few friends. One of those friends, Liam Davis, was a music producer who suggested Roberts record the songs professionally.
In 1998, Roberts released his first CD, Great Big Sun, and the critics took note. Soon, demand was so great that he hit the road full time, doing what he loves most: playing music for appreciative crowds. His concerts are often sell-outs.
He has been a guest performer on The Today Show; he's featured on Nick Jr. TV; and his song, "Get Me Some Glasses," was featured on a World Series broadcast.
Whether you're playing the familiar game Duck Duck Goose ("We Go Duck") in a new way or saying a wistful goodbye to your trusty bed as you leave for "Sleepoverland," Jungle Gym provides a memorable soundtrack for the way families live today.
Tickets are $15 for adults, $10 for children and free for children 2 and under. Tickets are now on sale at the JCC, 3630 Dutchmans Ln., or 459-0660.
Funding for this concert is provided by Kindred Healthcare. The concert is cosponsored by the Jewish Community of Louisville's Jewish Community Center, The PJ Library and PJ Plus.
The concert co-chairs are Shane Shaps and Kristin Shapira.