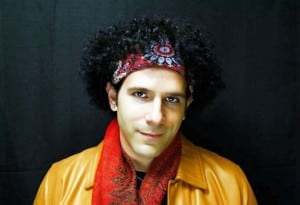 Jewish musical talents – both local and national – will rock the audience at the at Temple Shalom on Saturday, November 22, starting at 7 p.m.
Josh Nelson draws packed houses in New York City, and his high energy, captivating music enlivens audiences at the Union for Reform Judaism Biennial Convention, where he is the music director. He also has played in Japan, Turkey and Poland. Recently, he was selected as a "Star of the New Jewish Music" by Time Magazine.
Nelson is a classically trained musician who ably delivers rock, jazz and world music, according to his Web site, www.joshnelsonproject.com. He performs on as many as 13 different instruments, but is most acclaimed as a guitarist, pianist and vocalist.
His music is enjoyed by congregations, as well as at camps, and his message stresses hope, unity and spirituality. At New York's historic 92nd Street Y, Nelson leads High Holiday services.
He also is the creative director and founder of THEWAREHOUSE, which provides unaffiliated young Jews with an alternative Shabbat experience.
More information about Nelson is available on his Web site.
The group Shir Adat, from Lexington, KY, will be back at Temple Shalom by popular demand and will kick off the coffeehouse. Led by Dr. Lorne Dechtenberg, this choir from Temple Adath Israel often has listeners out of their seats and dancing in the aisles with their captivating music.
Making special appearances with Nelson during the evening will be Cantor David Lipp of Adath Jeshurun, Cantor Sharon Hordes of Keneseth Israel and Rabbi Gaylia Rooks of The Temple.
Complementary delicious homemade desserts and coffee will be served after the performances.
Tickets are $20 for adults and $15 for students through college age. Children 12 and under are free. Tickets will be sold at the door, or can be purchased in advance by calling the Temple Shalom office, 458-4739.