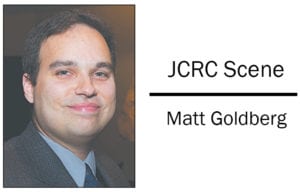 This past week, we lost another Holocaust survivor, a giant of an individual, John Rothschild, who passed away after a stroke at the age of 98.
His story is well known. A Swiss citizen, Rothschild risked internment at a Nazi transit camp during the war to negotiate the release of his fiancée, Renee (who also passed away on January 27). Married for 75 years, whenever they spoke at schools and to groups around town, Renee referred to him as her "Knight in Shining Armor."
They are together now, at peace.
John's passing should remind all of us of the importance of remembering the Holocaust. Every day that passes leaves fewer and fewer eyewitnesses alive to tell the tale, so we must ask ourselves, what tools have we to transmit the facts and personal stories of the Shoah when the last survivors are gone?
Obviously, one tool is education, teaching this critical period in the schools with properly prepared educators. We have done a pretty good job of that in Louisville and we are working to make Holocaust education mandatory throughout Kentucky.
The Anne Klein and Fred Gross Holocaust Education Act is making its way through the halls of our state Legislature. With a little luck and the natural goodwill of our state lawmakers and governor, it could pass.
When the bill finally becomes law, Kentucky will join eight other states that mandate Holocaust and genocide education, making us a national leader.
There are wonderful resources for Holocaust education. The social studies textbooks in Kentucky all feature it prominently. There also are online resources for educators who want to delve deeper.
Other resources we have are communal commemorations. At 7 p.m., Wednesday, April 11, at Bellarmine University, the annual Yom HaShoah commemoration will take place. This year, David Preston, award-winning journalist from the Philadelphia Daily News, who recounted his mother's survival tale here during a past visit, will describe how he translated the diary she kept while in hiding. He has visited Poland and Ukraine for extended periods, researching his family's story. The resistance he encountered is telling, as extreme right wing, nationalist governments take hold there and try to whitewash their own culpability in the Holocaust.
Another resource is public exhibits. Here in Louisville, the Jewish Community Relations Council (JCRC) takes teachers to the U.S. Holocaust Memorial Museum in Washington, D.C., on a bi-annual basis; this museum does a wonderful job capturing the magnitude of the Shoah.
JCRC will soon have a display in the Patio Gallery, a recreation by artist Dan Glattstein of a display at Yad Vashem, the Holocaust Museum in Israel.
Finally, for the first time in several years, The J is sending Louisville youth to the March of the Living in Poland. They will walk in the footsteps of the victims at Auschwitz-Birkenau. I cannot think of a more powerful educational moment than that.
May we never forget John and Renee's message as we strive to remember, and honor, the memories of the victims and survivors.
(Matt Goldberg is director of the Jewish Community Relations Council.)