(see below full photo gallery of #FantasyFundraising Campaign Kick-Off Event)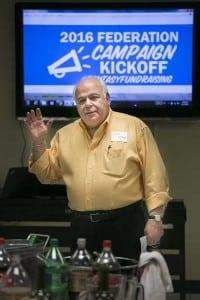 The Jewish Community Center's Senior Adult Lounge was packed with eager volunteers at the 2016 Federation Campaign Kickoff on Sunday, November 1, when Campaign Chair Leon Wahba called David Kaplan forward to make an exciting announcement.
The Jewish Heritage Fund for Excellence has renewed its generous $100,000 support of the Federation Campaign for 2016, Kaplan said. Because JHFE understands the importance of growing the Annual Federation Campaign, this year, they have partnered with the Jewish Federation to do so. JHFE has designated $200,000 for the JHFE Double Your Impact Challenge.
Through this Double Your Impact Challenge, JHFE will match every new gift and every increase on a Campaign gift up to $200,000, creating a unique opportunity to add $400,000 to the Campaign. (Kaplan serves on both the JHFE and the Jewish Community of Louisville Boards.)
"Two hundred thousand new dollars is an aggressive goal for our Campaign," said JCL President and CEO Sara Klein Wagner, "but it is essential to provide for the needs of our Jewish community. We need everyone to come together to make this a reality,"
"I am very appreciative of JHFE for their confidence in us," Wahba said. "It is important for us to reach this goal so we can fulfill more of our community's needs."
How will this impact the community?
YAD Co-Chair Laurence Nibur explained, this year's theme is Stronger Together, and JHFE's challenge demonstrates just what that means. The Campaign has three pillars – caring for the vulnerable, inspiring and ensuring Jewish futures, and safeguarding, enhancing and strengthening Jewish communities and peoplehood around the world.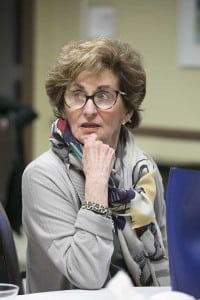 Looking around the room and noting that at that time more than 80 people had volunteered to help make the 2016 Federation Campaign a success, Nibur pointed out that the JCC cares for the vulnerable in the room in which the Kickoff was taking place. "This is the room where seniors get their meals that keep them young and living independently," he said.
"Look around the building," he continued. "We ensure and inspire Jewish futures" with programs like BBYO and Hillel, training the leaders of tomorrow.
When it comes to changing the world, Nibur highlighted the work of the Jewish Community Relations Council. Not long before the Kickoff, Louisville's River Road Mosque had been vandalized. Since JCRC Director Matt Goldberg had developed a strong relationship over the years with Dr. Muhammad Babar, Dr. Babar texted Goldberg when the vandalism occurred and the JCRC director was one of the first people on the scene.
Jewish Family & Career Services makes a real difference, helping families cope with life's challenges.
For all these reasons and many more, Nibur called on the volunteers to get excited about the Campaign, because we really are Stronger Together.
To inject some fun into this year's Campaign, JCL Board Member Jeff Tuvlin announced the leadership team has devised a friendly competition. Designated as #fantasyfundraising, members of the JCL Board recruited teams to work together on the Campaign. As teams raise money for the Campaign, they earn points toward the opportunity to designate a special gift for the agency or program of their choice.
JCL Board Member Becky Ruby Swansburg spoke about the important role our volunteers have in reaching out to our donors.
More volunteers are needed. The Campaign team will make it fun and easy while you get the satisfaction of knowing that you are making a difference. To get in on the action, help grow the Campaign to provide for community needs and meet the JHFE Double Your Impact Challenge, contact Matt Goldberg, 502-238-2707 or mgoldberg@jewishlouisville.org and he'll connect you with a team so you can help earn an extra allocation for the agency or program of your team's choosing.
Campaign efforts are underway. Volunteers are calling donors, initiating conversations and holding parlor meetings. There will be a Week for Giving starting December 6, during which volunteers will make a concerted effort to contact donors to ask for their help in meeting the Double Your Impact Challenge. That effort will culminate in the Major Gifts Dinner with featured speaker Dennis Ross on December 6.
Please give generously to the 2016 Federation Campaign, because we are Stronger Together.