The Sonny & Janet Meyer Family Food Pantry Fund,
providing support for families in need.
Donations Needed For Members Of Our Community
More than 100 Louisville individuals and families receive items from the JFCS Food Pantry & Emergency Services each year. The following are suggestions of some of the most needed items:
Non-Perishable Food Items
Peanut Butter • Canned Tuna/Salmon • Macaroni/Cheese • Soups • Juices • Tea Bags • Breakfast Cereal/Oatmeal • Canned Tomatoes • Canned Stew • Coffee
Paper Goods:
Toilet Paper • Tissue Paper • Paper Towels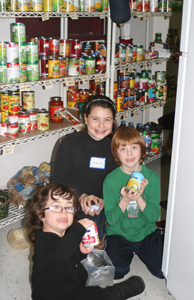 Toiletries:
Shampoo • Soap • Toothpaste • Toothbrush • Deodorant
Cleaning Supplies:
Laundry Detergent • Dish Detergent • Sponges
Through the generosity of people all over our community, JFCS Emergency Services has become a partner to provide vital support, when there are those who have no other "shoulder" to lean on. Donations can be dropped off at the JFCS Louis and Lee Roth Family Center at 2821 Klempner Way. You may also contact JFCS BBromley@jfcslouisville.org to help your organization set up a food drive.
Baskets of Blessings
Planning a Simcha? Contact JFCS to reserve your Baskets of Blessings to make a special occasion even more meaningful. Our baskets will enhance the bimah and/or tables at your event while also representing your contributions to JFCS for food and assistance to those in need. Each basket rental represents a tax-deductible contribution to JFCS.