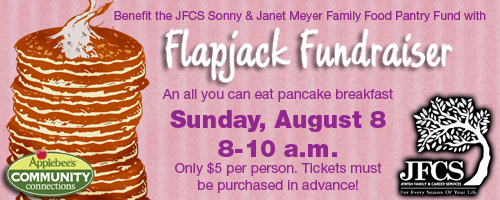 What could be better than enjoying a non-stop eating frenzy for just $5 (kids 3 and under eat free) and helping a charity at the same time? To the overwhelming number of people who attended last year's Jewish Family & Career Services' Flapjack Fundraiser, the answer would be, nothing can beat it.
Make it a point to attend this year's on Sunday, August 8, from 8-10 a.m. at Applebee's, 2225 Taylorsville Road. and see for yourself.
At its annual meeting in April, the Association of Jewish Family & Children's Agencies (AJFCA) was so impressed with the program that it awarded the JFCS a 2010 KOVOD Award for Excellence in Fundraising. The agency garnered a second KOVOD Award for its web site. The presentation was made at AJFCA's 38th annual conference in Los Angeles. The AJFCA has a membership of more than 138 Jewish Family and Children's Agencies.
Judy Tiell, JFCS executive director, said the last year's "Flapjack Fundraiser" brought in $5,400 to benefit the Sonny and Janet Meyer Family Food Pantry Fund. Pascalle Ballard is the JFCS design specialist who created the marketing campaign and maintains the agency's web site.
"We're excited about the awards," said Tiell, "but would be even more excited if people could hold the date and time for this year's event. They can come and enjoy a full breakfast buffet, help meet JFCS' crucial need for emergency services and support the food pantry all at the same time."
[by Phyllis Shaikun]