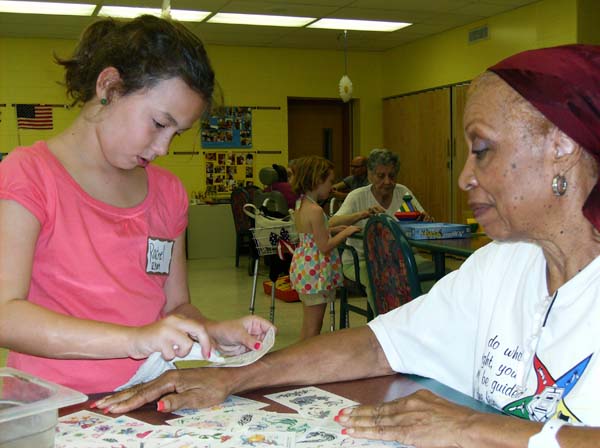 The Jewish Family & Career Services Family Mitzvah Committee organized a lively afternoon of games and activities for the residents of Four Courts on Sunday, August 29. Parents and their children created a carnival-like atmosphere and the residents "toured" the Activity Room, going from one game to the next. The residents participated in activities such as basketball, corn hole with bean bags, necklace making, card and board games, and even petting Opal, a service dog in training.
The primary goal of the Family Mitzvah Committee is to give parents opportunities to help teach their children the basic concept of doing for others, showing them how to give back to their own community. Family Mitzvah Chair Beth Salamon has been a wonderful role model since moving here from California. Her entire family, including her parents, her husband and two sons, all came to help in the afternoon's event.
Please mark your calendar for the next JFCS Family Mitzvah event, Sunday, October 10, under the Pavilion at the baseball field of the JCC's property. An Apple Tasting will be held for the residents of Shalom Tower, celebrating the Jewish New Year and the Coming of Fall. All families are welcome.
Please RSVP to Shelley Kahn at skahn@jfcslouisville.org or 452-6342.
{gallery}Community/2010/091710/FamilyMitzvah{/gallery}