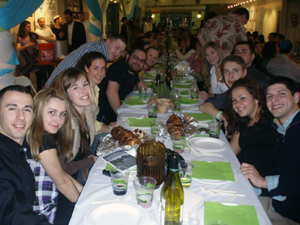 [by Eliza Zell]
As Rabbi Yonah says, "If you want to make something where everybody will come together, focus on things that people have in common" – Jewlicious is the place to be. For the sixth time in a row, Jewlicious 6.0 never ceases to amaze students that have been going for years.
Jacob Efman, a Hillel student who attends Bellarmine University, said, "The Jewlicious festival amazes me yet again! This was my second time and it was bigger and better than the last time. I believe nearly 1,000 Jewish college students and young adults were there. It was an immersive, energizing and unforgettable weekend of music, dancing, food, speakers, learning and fun."
Efman was part of a group of 13 students from both the University of Louisville and Bellarmine University who were given the opportunity to go to Long Beach, CA, February 19-21 to experience something that most of them only dream about.
The weekend ranged from musical performances from Matisyahu, Moshav and Rav Shmuel to comedic appearances by Joel Chasnoff and Kira Soltanovich. It also included different sessions about Jewish culture.
"Jewlicious was an amazing experience, where our Hillel group got to network with college students just like ourselves," said Tatyana Mishchenko. "The students never thought that there was such a big Jewish festival somewhere around the country that could bring us together like Jewlicious did."
Larry Forman said, "There are many events that are held daily across our beautiful country, but in only one event the amount of shmoozing heated the air to the point where it was impossible for one to breathe while standing on the second floor of the Long Beach JCC. That event is the biggest Jewish gathering in the United States today – Jewlicious."
Beau Diaz a sophomore at the University of Louisville says "Jewlicious was a great experience for me, especially because I didn't know any other Jews on campus prior to Jewlicious."
Surprisingly, there are Jewish students on Louisville's campuses that Hillel didn't know about, and Jewlicious what brought them in the door and enlarged our Hillel of Louisville.
Hillel gives the multi-university Jewish student population the chance to come together and experience Jewish events around the country. Without Hillel, none of this would be possible.
"This was a great Jewish experience. I had a blast and loved meeting other fellow Jews from all over the country. JCL is awesome and I appreciate the donor; without any of their help it would not be possible. Hopefully they'll offer this opportunity next year because it really brought me closer with my people," says Barry Mordukhaev.
It is without question, that all 13 students would love to go to Jewlicious 7.0 next year. Hopefully, more students will express interest and make Hillel of Louisville grow.
As Jacob Efman put, it "I encourage others to look into this event next year you won't regret it. I would personally like to thank the people who have made these memories possible, your support will not go in vain!"
An anonymous donor made it possible for Hillel to pay for the students to attend Jewlicious 6.0, and many of the students sent letters expressing their gratitude.
---
To our generous donor,
I would like to sincerely thank you for giving me the opportunity to become more involved with the Jewish Community of Louisville as well as enabling to meet with Jewish college students from around the nation.
Recently, Hillel took us on a trip to California for the Jewlicious Festival. There we had the opportunity to participate in a variety of activities ranging from Torah study to making challah for the Shabbat dinner. This trip allowed me to engage with fellow Jews from around the nation and helped me grasp a better understanding of what it means to be Jewish in the modern world.
I would like to once again thank you for giving me this opportunity.
Sincerely,
Mark Talis
Dear Generous Donor,
Let me start out by saying the trip you funded was awesome!!! A tremendous experience I would never enjoy without your help. Thank you so much! I have a lot of friends who are Jews, and we're always joking around that we're Jews and we have to help each other. While in some way that is true, your generosity and kindness really helped us Jews as a group and for me, individually. I can't express in words my appreciation for that. Never happened to me before from a random stranger, but now that I'm seeing it's possible opens a new realm of possibilities for me.
The trip really helped me spiritually and individually. I learned many things in this trip particularly on how to be a Jew. I've lived with my family in Brooklyn and experienced being surrounded with only Jewish people, but moving here to Kentucky for a while you forget about that. Surrounded with mostly a Christian group makes it a little difficult sometimes. So thank you so much, an experience I will not forget.
I know I said this before, I just feel like I cannot reiterate it enough, I do appreciate and am very thankful for your kindness. I'm assuming it just felt like a donation for you, but for me it was a trip that brought me closer to my faith and determination of myself in life.
Respectfully,
Barry Mordukhaev
Dear Hillel Donors,
Thank you for your very kind donation to the Hillel students for organizing the Jewlicious Festival. I am a Hillel student too, and I have spent an amazing time at the Jewlicious Festival. I had a chance to meet a lot of Jewish students and expose myself to the Jewish culture.
Your generosity will make an immediate difference in the lives of a lot of Jewish students.
Thanks again for your kindness,
Mike Fradkin
Thanks to whom thanks is due,
There is not enough appreciation in this world for your supererogatory actions.
This trip means a lot to me and the connections that are made through it. You have ensured the inspiration and motivation of protecting and progressing the future generation of this Jewish community's prosperity.
Again, thank you so much. I sincerely appreciate your generosity.
Best Regards,
Jacob Efman

To the anonymous donor to Hillel,
Thank you so much for providing the means for us to attend this amazing event. It meant quite a bit to me as an individual because it allowed me to experience something very different from what I'm used to, and it was nice to be in a different environment.
You may not know me, but I will tell you that I am currently in the process of converting and when I heard about Jewlicious I thought that it would be a great experience to acclimate and learn and to experience what it is to be surrounded and infused with Judaism. There was even a seminar on Jews by Choice, which I did not miss that discussed converts, other people like me. The discussion reaffirmed my beliefs and keeps me steadfast in my resolution to become Jewish.
I want to thank you for making this experience possible, because it has done so much to inspire me and keep my aspirations high. It has meant a lot to me to have this experience, and hope it will be the first in a line of many.
Thank you,
Chris Claxon
Dear JCL,
I would like to thank you for your donation and support of Hillel of Louisville, KY. I am currently a student at the University of Louisville. On February 19-21, I was lucky enough to be a able to travel to the Jewlicious Festival in Long Beach, CA, and experience Jewish culture.
We were able to participate in Jewish festivities which include baking hallah, Shabbat dinner, and prayer services. We were also able to attend a standup comedy show starring all Jewish standup comedians.
It is hard during the school year to participate in Jewish life. This trip was a great opportunity to connect with other Jews around the nation. It was only possible thanks to your donations.
Thank You
Gariy Ocheretner
Thank you so much for giving Hillel the opportunity to experience such an amazing event as Jewlicious. Attending this event meant the world to me. I have met so many young Jewish students like myself. I have received friendships that I am sure will last a very long time. This trip has even let our small Hillel group bond even closer with the new members.
You have done such a great mitzvah! I would just like to say Toda Raba, thank you for your kindness. We are so grateful.
Tatyana Mishchenko
From all of us in Hillel, we want to thank you for giving us the privilege to go to California and engage in the Jewlicious festivities. It is an experience that we will always look back on and I know that we are all counting down to Jewlicious 7.0.
We got the opportunity to meet people that are just like us and have the experience of a lifetime, and to see Matasiyahu and other Jewish performers around the world.
We are so privileged to have someone in the community to be generous enough to allow Jewish young adults to engage in Jewish events around the country.
I hope that Hillel expands even more, and we continue to have generous sponsors like you.
Thank you so much for all that you have contributed to Hillel.
Eliza Zell