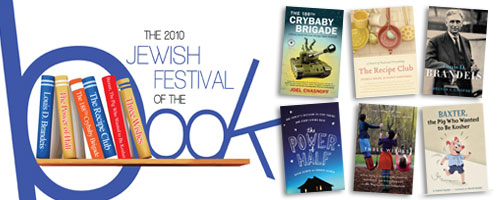 The Jewish Community of Louisville's 2010 Jewish Festival of the Book is bringing an exciting series of authors to town. Their books range from the comedic to the serious, from life changing experience to new ideas for dinner.
First up is comedian Joel Chasnoff, author of The 188th Crybaby Brigade, a coming-of-age tale which takes readers into the barracks, over, under and through political fences and face-to-face with the absurd reality of life in the Israeli Army. Sponsored in part by a Jewish Hospital Louisville Jewish Community Excellence Grant, Chasnoff's lecture at the Jewish Community Center on Wednesday, November 3, at 7 p.m. is free.
You may have seen them on Good Morning America, or read about them in People Magazine. On Sunday, November 7, at 1 p.m., you can join Nancy Garfinkel and Andrea Israel to hear about The Recipe Club, a book that has readers around the country forming their own Recipe Clubs. Described as a "novel cookbook," The Recipe Club is a deliciously funny, touching story of friendship, loss, and the ties that bind – with more than 80 recipes that keep the plot cooking. Compellingly readable, this heartfelt story celebrates the resilience and power of women's friendships. Garfinkel and Israel will speak at a private home so space is very limited. Tickets are $25 and they're going fast.
The winner of the 2010 Brandeis Medal, Melvin Urofsky is returning to Louisville to discuss his book, Louis D. Brandeis: A Life, the first full-scale biography of one of the most important and distinguished justices to sit on the Supreme Court to be published in 25 years. This acclaimed scholar will speak at the JCC on Wednesday, November 10, at 7 p.m. Tickets are $8.
Joan and Kevin Salwen were living a "standard American life" until their 14-year-old daughter convinced them to sell their home, downsize their lifestyle and give the money to charity. The Power of Half: One Family's Decision to Stop Talking and Start Giving Back is the story of their life altering decision and its unexpected results.
Written in tandem by the father-daughter team of Kevin and Hannah Salwen, The Power of Half has landed the Salwens on "The Today Show" and "ABC World News with Diane Sawyer," as well as in The New York Times, Los Angeles Times and The Boston Globe. Kevin Salwen will share his family's story at the JCC on Monday, November 15, at 7 p.m. Tickets are $8.
Three Wishes: A True Story of Good Friends, Crushing Heartbreak, and Astonishing Luck on Our Way to Love and Motherhood follows three friends whose lives are transformed when they decide to make motherhood happen in the most unconventional ways. Carey Goldberg will speak on behalf of herself and fellow friends and savvy journalists Pamela Ferdinand and Beth Jones at the Java Brewing Company, 4901 Brownsboro Road, on Tuesday, November 16 at 7 p.m. Tickets are $15.
No Jewish Festival of the Book would be complete without something for the youngest readers. In a book sure to bring smiles to anyone's face, Baxter, the Pig Who Wanted to Be Kosher, introduces readers to a plucky pig protagonist in a misguided quest to become kosher. Sponsored in part by PJ Library, Laurel Snyder, an expert on Jewish literature for children, will speak at The Temple Sunday, November 21, at 10 a.m. There is no charge for this final program in the festival.
For more information about the 2010 Jewish Festival of the Book, or to view complete descriptions of each book, click here. Tickets may be purchased in advance by phone at 459-0660 or in the JCC lobby.