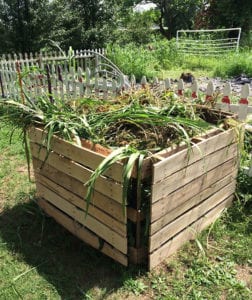 Food waste is the single largest item in landfills, and nearly all of it can be re-used for composting. Help reduce your landfill footprint by participating in The J's compost program.
The J has a very simple composting program. Collect your vegetable and fruit scraps in re-used plastic bags or containers, then store them in the freezer until the bag is full. Then, bring it back to The J and add the entire closed bag to the collection bin located on your way into the building.
The J will collect all the compost and turn it regularly for the next two to three months. Once the organic matter has decomposed, it will be used to plant more delicious veggies in The J Garden.