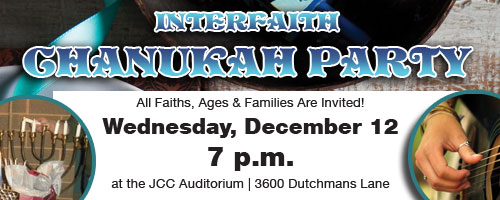 In the Jewish community, Chanukah is time to get together with family and friends, light candles, sing songs and indulge in latkes and sufganiyot (jelly doughnuts). Chanukah also offers us an opportunity to acquaint our non-Jewish neighbors with some of our traditions by including them in some of the festivities.
On Wednesday, December 12, the Jewish Community Relations Council (JCRC) will host an interfaith Chanukah party at 7 p.m. in the Jewish Community Center's auditorium. This will be a celebration of religious freedom for all and the religious diversity of our city.
"This will mark the fourth year that the JCRC has sponsored a city-wide interfaith Chanukah party," said JCRC Immediate Past Chair Leon Wahba. "It is the ideal opportunity to invite our friends and neighbors to come to our house – the JCC – to sample the delicious latkes and learn more about what this holiday is all about.
"Over the years," he continued, "we have been hosting progressively larger and larger crowds with everyone that attends having a very good time. This year we will be reaching out to literally hundreds of faith congregations from throughout Kentuckiana.  This is community relations at its very best."
"As Chairperson of the Louisville JCRC," said Ayala Golding, "I am thrilled to be able to serve with Leon Wahba, who has taken on the role of chair of our subcommittee on interfaith relations with enthusiasm and perseverance.
"One of the primary tasks of the Louisville JCRC," she continued, "is to build and maintain strong relations with other faith groups in our Louisville community. Leon has made the annual JCRC interfaith Chanukah party our seminal interfaith event, starting it when he was the JCRC chair and growing and expanding it every year since."
For this major outreach event, the JCRC has extended invitations to members of more than 700 churches, mosques, temples and other houses of worship. A number of dignitaries from the area, including Mayor Greg Fischer, Louisville Chief of Police Steve Conrad, Lt. Gov. Jerry Abramson, Archbishop Joseph Kurtz and Gov. Steve Beshear have also been invited.
The program will include candle lighting with Rabbi Michael Wolk and the telling of the Chanukah story. Cantors David Lipp and Sharon Hordes, a youth choir and the River City Klezmer Band will provide the music. And, of course, there will be latkes, applesauce and beverages.
Attendance is limited to the first 400 people who RSVP.
"It is my sincere hope, as chairperson of the JCRC, that all of us, regardless of religious affiliation, can all be united together on this evening to enjoy food and friends and share the light that is the miracle of Chanukah," Golding added.
The Jewish Community Relations Council is a committee of the Jewish Community of Louisville. Ayala Golding is the JCRC chair and Matt Goldberg is the JCRC director. Leon Wahba and Jeff Slyn are planning this event.