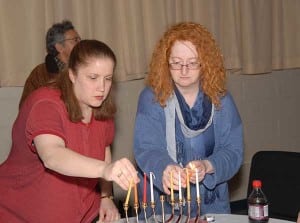 Dreidels were spun, many songs were sung and Louisville's cultures came together as one at the Interfaith Chanukah Party on Sunday, December 13. Community members of all faiths gathered in the Jewish Community Center's Linker Auditorium, which was still jazzed up with mossy secret forest ceiling lanterns from the prior week's Light Up CenterStage gala, and sat at tables strewn with dreidels, gelt, Chanukah candles, menorahs and foil-wrapped chocolate Maccabees
Jewish Community Relations Council Director Matt Goldberg welcomed the partygoers and talked about the importance of embracing all faiths and cultures.
Alt-country singer-songwriter Brigid Kaelin, who was raised in an interfaith household, started off the entertainment portion on the perfect note. She charmed the partygoers with original country-tinged Chanukah songs, and even threw in some yodeling.
After a handful of solo numbers, Cantor David Lipp joined Kaelin and she accompanied him on the piano. A couple of Cantor Lipp's songs, including a cute salute to latkes, primed the partygoers for the snacks to be devoured later.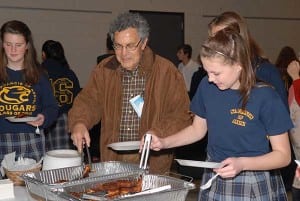 He finished off with a passionate, bluesy tribute to the Chanukah donuts known as sufganiyot.
Some like 'em hot, some like 'em cold/Nobody likes them when they get old
As he sang, the audience looked longingly at the rows of plump powdered jelly donuts and pans of hot foil-covered latkes waiting to be savored.
"It's not Chanukah unless Bridget is yodeling and Cantor Lipp is singing about sufganiyot," Goldberg joked.
Goldberg then introduced Fred Whittaker, a Holocaust educator and science teacher at St. Francis of Assisi Catholic School, who was honored at the party.
Goldberg explained that Whitaker takes his students to the United States Holocaust Memorial Museum in Washington D.C, every year and is a sublime guide. "He is a great teacher of ethics, values and humanity," Goldberg said.
Whittaker then took the stage. He talked about how all faiths are connected, how vital it is to teach kids about the Holocaust, and his many teachers and inspirations.
"My most powerful inspiration comes from my students," he said. A couple dozen of Whitaker's students were on hand to see their teacher celebrated by the community.
Then it was finally time to feast on latkes and sufganiyot. The partygoers lined up for the Chanukah treats and sat down to socialize Friends Star Conner and Joe Burch played dreidel together. "I just like watching it spin," Conner said.
She added that it was wonderful to see so many people of different religions come together for a sweet celebration.
"It's really nice to be reminded about sharing one God," she said. "That idea gets lost."