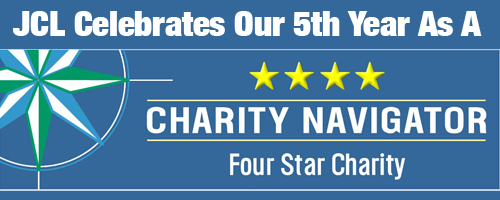 For the fifth consecutive year, the Jewish Community of Louisville or one of its predecessor agencies has been awarded Charity Navigator's top four-star rating in recognition of its sound fiscal management and commitment to accountability and transparency, according to the letter the charity-rating group sent to the JCL on July 1.
The first three four-star ratings were issued to the Jewish Community Federation, starting in 2008, prior to the merger of the Federation and the Jewish Community Center to form the JCL. The JCL has received the top rating for the past two years.
"The staff and volunteers of the Jewish Community of Louisville have worked very hard to ensure that our organization is a responsible steward of community funds, that the dollars we raise are used to build and support our local, national and international Jewish community in accordance with our mission, and that all of our transactions are transparent," said JCL President and CEO Stu Silberman. "This four-star recognition from Charity Navigator validates the success of that hard work."
Ken Berger, Charity Navigator's president and CEO, wrote in the letter, "As the nonprofit sector continues to grow at an unprecedented pace, savvy donors are demanding more accountability, transparency and quantifiable results from the charities they choose to support with their hard-earned dollars. In this competitive philanthropic marketplace, Charity Navigator, America's premier charity evaluator, highlights the fine work of efficient, ethical and open charities."
"Based on the most recent information available and using our new, two dimensional rating system (CN 2.0)," Berger continued, "we have issued a new rating for your organization. We are proud to announce that the Jewish Community of Louisville has earned our second consecutive four-star rating. Receiving four out of a possible four stars indicates that your organization adheres to good governance and other best practices that minimize the chance of unethical activities and consistently executes its mission in a fiscally responsible way.
"Only 17 percent of the charities we rate have received at least two consecutive four-star evaluations," Berger stated, "indicating that Jewish Community of Louisville outperforms most other charities in America. This 'exceptional' designation from Charity Navigator differentiates Jewish Community of Louisville from its peers and demonstrates to the public it is worthy of their trust."
Check out Charity Navigator's evaluation of the JCL at http://www.charitynavigator.org/index.cfm?bay=search.summary&orgid=10095.