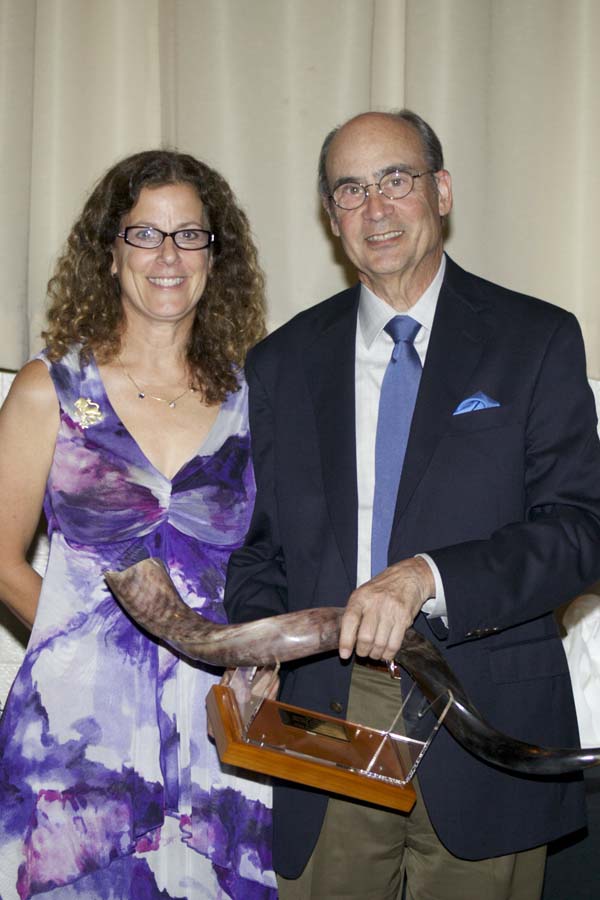 [by Phyllis Shaikun]
The Jewish Community of Louisville's Annual Meeting at the Jewish Community Center on Sunday, September 19, certainly lived up to its billing as an event jam-packed with local celebrities and lots of surprises – with some lighthearted humor thrown in for good measure. It truly was one of a kind event chaired by Karen Abrams.
The first surprise came when community members found a red carpet at the front door and were greeted with music in the lobby from the JCC Orchestra. Then, four of emcee John Leffert's CenterStage performers opened the program with a rousing version "Some Enchanted Evening" from South Pacific. Rabbi Stanley Miles' followed with a unique invocation based on the theme of the song "You'll Never Walk Alone." "We Jews do not walk alone," he said, "but rather together with others of good will."
Ed Weinberg, who served as the chair of the JCL Board since its creation in May 2009, offered a brief overview of the state of the organization today and stressed the importance of the JCL's educational and health/fitness programs. He thanked Todd Blue and Lior Yaron for their leadership of the Annual Campaign and was proud to report a 16 percent increase in pledges to the Campaign this past year – a remarkable feat, especially in light of the economy and the financial difficulties faced by other like organizations across the country.
"The JCL merger," he declared, "with the invaluable assistance of interim CEO Ron Greenberg, created one great group." He expressed gratitude to the officers and board for their willingness to serve and to whose hard work led immeasurably to the success of the effort.
"We are on track to balanced budgets and financial security," he reported, "and were able to fund almost 100 percent of the requests received by our Planning and Allocations Committee this year. The CRC is very active, and I am pleased that Nominating Committee Chair Craig Greenberg and his committee have identified some exciting new leadership for the board."
Weinberg thanked Jennifer Greenberg and Michael Salamon for chairing the Young Adult Division and congratulated Cheryl Karp, who will be receiving the Kipnis-Wilson/Friedland Award at the International Lion of Judah Conference in New Orleans in November. He then introduced the JCL's new president and CEO, Stu Silberman, as "the best thing to come out of Ann Arbor."
"I am humbled and honored to be the candidate you and your search committee selected for this role," said Silberman, who has been on the job just a few months. He thanked his wife and daughters for being his staunchest supporters and expressed gratitude to Weinberg and to Alan Engel, former executive director of the Jewish Community Federation of Louisville, for their assistance during his transition. He also thanked the JCL staff for their efforts on his behalf.
"In just this short time," he continued, "I have felt a fulfillment and passion for my work I've never experienced before." He expressed an awareness of the awesome responsibilities he has accepted and promised to do "everything possible" so that together we can succeed in overcoming the challenges that lie ahead in building a sustainable, vibrant and welcoming community for Jews in Louisville for generations to come.
He also challenged members of Louisville's Jewish community to share his sense of pride in our community. "We have vibrant organizations, a fantastic JCC with programs for all stages of life, five houses of worship and outstanding clergy, lay and professional leadership – but we need to show pride in what we have created. I feel," he concluded, "we can be successful only if we have the same sense of pride in our Jewish community that we have in our Louisville community."
A number of awards were presented during the evening. The Lewis W. Cole Memorial Young Leadership Award went to Jeff Tuvlin; the Joseph J. Kaplan Young Leadership Award to Julie Ellis; the Arthur S. Kling Award to Dottie Battoe and Doug Gordon; the Stacy Marks Nisenbaum Award to Hayley Grossman and Talia Wagner; the Stuart Pressma Leadership Development Award to Sam Cohen, Max Oppenheimer and Nathan Spielberg; the Ellen Faye Garmon Award to Jacob Spielberg; and the Joseph Fink Award to Sarah Ensign.
A delightful video featured teen award winners expressing how meaningful their awards were to them and how much their Jewish experiences influenced them over the years. Mayor Jerry Abramson concurred that he and many others in the room gained their leadership experience from "the goodness of AZA."
Before introducing Louisville Metro Police Captain Robert White, recipient of the Blanche B. Ottenheimer Award, the mayor said, "This is the most important award we give to the community from our Jewish community. It is presented annually to someone who has made Louisville a better place, and we could not have found anyone who has done more toward that end than this year's awardee."
He has been on hand since day one of the merged government, which included the merger of the Louisville and Jefferson County Police Departments. "The toughest job that day was not mine," Abramson noted, "it was Chief White's." He was selected from a group of more than a dozen candidates for this position and, when I met his wife, Valerie, I felt we had gotten "two for the price of one!"
In his remarks, White acknowledged that anything good about him could be attributed to his wife. He said he was deeply flattered and honored by the award and mentioned that he and Mrs. Ottenheimer shared the belief that it is all about "unity in community." White chose to donate the honorarium that came with the award back to the Jewish Community Center (part of the JCL) as a way of thanking the JCC for making reduced memberships available to the community's police and firefighters.
Marie Abrams presented the Ron and Marie Abrams Volunteer of the Year Award to Fred Gross and wished him health, strength and energy to continue his work. Gross, a Holocaust survivor and author of the book One Step Ahead of Hitler, visits schools around the community making children aware of the Holocaust and thereby changing their attitudes and their lives. He introduced his brother, Sammy, who saved lives – including Gross' – during the Shoah, and said he will "cherish this moment forever."
Senior Adult Director Diane Sadle, introduced long-time JCC member, Esther Zegart, as the winner of the Elsie P. Judah Award. "She's a devoted mother, grandmother and friend who is always there when you need her," said Sadle.
The event ended with a short business meeting where Craig Greenberg announced nominees for JCL Board and officers, and elections were held. Those elected for two-year terms were Stuart Goldberg and Alex Rosenberg; for three-year terms, Greg Davidoff, Julie Ellis, Angeline Golden, David Kaplan, Kate Latts, Helene Kramer Longton, Leon Wahba and William Yarmuth. The officers are David Klein, JCL Board chair; Doug Gordon and Jeff Tuvlin, vice Board chairs and Karen Abrams, secretary.
"We are at a good place," said Klein. "A community means togetherness, and as such, we provide services of every sort from Jewish Family and Career Services to CRC, the JCC and our Partnership with Israel. I hope we will continue to widen and deepen what we offer the community in the coming year."
Special thanks were extended to Aaron Boaz and the JCC Orchestra, which provided music for the reception before the meeting; Café J Catering; Heaven Hill Distilleries; Louisville Valet Service; Korfhage Landscape and Design; and Westport Whiskey and Wine.
To access the 2010 Annual Report please click here.
{gallery}Community/2010/100810/AnnualMeeting{/gallery}