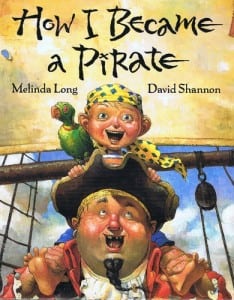 HOW I BECAME A PIRATE
Book, Music and Lyrics by
JANET YATES VOGT AND MARK FRIEDMAN
Based upon the book "How I Became a Pirate" Written by Melinda Long and Illustrations by David Shannon
A story of adventure and finding one's own heart – a path that can't be found on any treasure map!
With terrific songs like "A Good One To Boot," "I'm Really Just a Sensitive Guy," "You've Got to Talk Like a Pirate" and many others, your students will be rolling in the aisles and wishing for Braid Beard and the gang to one day pay them a visit.
Public Performances
SUNDAY, MAY 3, 2015 • SUNDAY, MAY 17, 2015 AT 2 P.M.
In the Linker Auditorium at The Jewish Community Center of Louisville (3600 Dutchmans Lane)
Tickets: $7 kids/ $12 Adults. Call 502-459-0660 for tickets!
In-School Performances
Performances are suitable for grades k-6 and available March 2- May 22, 2015, Monday – Friday between the hours of 8 a.m. and 3 p.m.
For pricing, reservations, or any other questions contact Lenae Price, CenterStage Development and Outreach Manager, at lprice@jewishlouisville.org or 502-238-2763.
Title I and multiple booking discounts available!
Mission & Goal
To develop and nurture students of all ages through the creativity and appreciation of theater.
To Explore the beauty, diversity and challenges of the world around them through the dramatic process
To encourage the development of their own creative voice and imagination.
To understand drama and its role in society
Educational Themes
Content suitable for grades k-6.
Social Themes
Acceptance
Coping skills
Managing different and conflicting emotions
Family dynamics and relationships
Storytelling
Means of teaching
Means of expression
Through music and dance
Multicultural Themes
Suggested activities, lesson plans and study guides are available upon request.
Common Core/Core Content
Elements of Music/Dance/ Drama/Theatre
AH-EP-3.3.1 Students will understand that the arts fulfill a variety of purposes in society; sharing the human experience, recreational, artistic expression.
AH-EP-3.1.1 Students will experience music created for a variety of purposes including, but not limited to, recreational and artistic expression.
AH-EP-3.2.1 Students will experience dance for variety of purposes including, but not limited to, recreational and artistic expression.