The JCC Patio Gallery, located in the lobby of the Jewish Community Center, is the elegant setting for imaginative exhibits featuring the innovative artwork of locally, nationally and internationally recognized artists.
Patio Gallery Hours:
Sunday: 9 a.m.-6 p.m.
Monday – Thursday: 8:30 a.m.-9 p.m.
Friday: 8:30 a.m.-7 p.m.
Saturday: CLOSED
View some photos of our Patio Gallery:
---
JCC PATIO GALLERY PRESENTS
David Iacovazzi-Pau, Paintings and Works on Paper
Born 1978 in Luxembourg, David Iacovazzi-Pau began his education in fine arts from the age of 15 in Belgium. He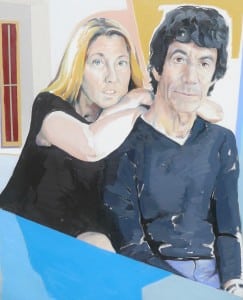 later attended the Centre Académique des Arts in Luxembourg and immigrated to the United States in 1997, studying at Indiana University Southeast. Iacovazzi-Pau's work focuses on the human figure and is a visual diary of the people he encounters. His series reveal different aspects of the sitters and the link between their physical appearance and personality. David writes, "My aim is to portray idiosyncrasies and evoke the mood of the subject in order for the portrait to have an accurate likeness and affect. The work reflects what I sense about a person and is a documentation of my community."  He begins by taking multiple photographs of his subject, and then uses the photographs to create several drawings which become the source material for the paintings. The final result is a subjective impression of an individual and is representative of the relationship between the artist and the subject.
David Iacovazzi-Pau's paintings have been the subject of group and solo exhibitions including "Worldwide Diversity through Portraiture" in Mainz, Germany; "Red Clay Survey, Exhibition of Contemporary Southern Art" at the Huntsville Museum of Art; "57th Mid-States Art Exhibition" at the Evansville Museum of Art; and "25th Annual Juried Show" at the Contemporary Arts Center in Las Vegas. His work is represented in private and public collections such as Indiana University Southeast, the William F. Ekstrom Library Collections at the University of Louisville, and the Kentucky Center for African American Heritage in Louisville, KY. David currently lives and works in Louisville, Kentucky.
Visit www.davidiacovazzipau.com for more information.
Weavings by Wendy Weiss and Photographs by Jay Kreimer, Fences, Trees and Looms: Following the THREAD
This exhibition features recent naturally dyed ikat weavings by Wendy Weiss and accompanying photographs of ikat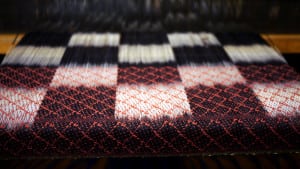 artisans at work in India and historic looms and factory buildings in Łodź, Poland by Jay Kreimer. The exhibition also highlights five silk weavings by artisans in a rural community in the Surendranagar District of Gujarat, where Weiss worked as a Fulbright Nehru senior research scholar from October 2014 to July 2015, training the weavers in digital design. Ikat is a method of dyeing warp and/or weft yarns, using binding of selected areas of the threads to resist dye the yarns in a patterned way, prior to placing them on the loom to weave. Ms. Weiss has been developing a method to create pattern in ikat using the traditional Gujarati system for preparing the warp yarn.
In August of 2014 she taught an ikat workshop at the Strzeminski Academy of Fine Arts Łodź, Poland which inspired a group of weavings about the "Litzmannstadt Getto," in Łodź. One of these weavings will be exhibited at the 15th International Triennale of Textiles in Łodź in 2016.
---
Would you like to present a show in the Patio Gallery?
For more information call 502-459-0660. Download our Petition to Show form here.