Experience the magic of JCC Summer Camp!
Jewish Community Center  |  3600 Dutchmans Lane  |  Louisville, KY 40205
P: 502-459-0660   |   F: 502-459-6885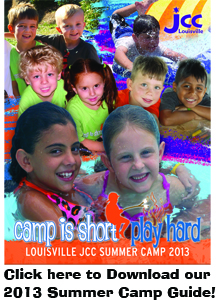 JCC Summer Camp is more than just a place where children come to play during the summer. It is a transformative experience that children will remember for the rest of their lives. Every camper will discover, grow and learn within the supportive and safe environment that JCC Summer Camp provides. Whether it's the new friends your child will make or the first time your child swims across the pool, every camper will come home with new stories about the activities and people at camp. JCC Summer Camp is an experience like no other and it is hard to put into words but it's all about the smiles and laughter and excitement and campers never wanting to leave and always wanting to come back. Camp is over for the summer, but we will release information about Summer Camp 2014 in February!
JEWISH VALUES AT CAMP
Yad B'Yad (Hand in Hand)
We promote universal values through a Jewish lens and know that by the end of the summer, campers will make a difference and know how work together for the common good. The camp experience includes:
Cheering & Ruach (spirit) every morning
Participating in Tikkun Olam (repairing the world) service projects
Performing Mitzvot (acts of kindness)
Learning about tzedakah (charity)
Celebrating Shabbat (Sabbath) every Friday morning
---
COMMUNICATION

There is communication throughout the summer regarding camp activities through email and all camp staff is available during the summer to answer questions generally about the programs or specifically about a child or situation.
Check the JCC Louisville Summer Camp Facebook page for pictures and reminders.
CAMP STAFF
Our dedicated and responsible camp staff are carefully selected for their skills, experience and interest in working with children. They receive extensive training prior to the summer and ongoing supervision during the summer to ensure they provide the highest quality care. They are trained in creative programming, group dynamics, child development, conflict resolution, safety procedures and more. An Israeli Shaliach (counselor from Israel) will be at camp all summer infusing Israeli culture into JCC camp. Click here for Camp Director contact information.

FACILITY

The JCC has the perfect facility for your child's summer camp experience. Our 17-acre facility includes 2 softball fields, 2 soccer fields, 1 gaga pit, 2  playgrounds, 3 tennis courts, and a covered pavilion with picnic tables, Camp's indoor space includes 2 full size gymnasiums, auditorium with theatre stage, indoor child-friendly activity space, heated indoor pool and a full dance studio. The outdoor pool complex includes a nine-lane 25 meter heated lap pool, leisure pool with a diving well and remodeled baby pool.
MORNING CIRCLE
Every morning all campers begin their camp day with music, singing and dancing.


COMMUNITY GARDEN
This on-site garden provides hands-on experiences including watering, weeding and picking fruits and vegetables. The campers learn how to grow food and eat healthy. Most of the fruits and vegetables are donated to the Jewish Family & Career Services' food pantry.

YACHAD-PROGRAM FOR CHILDREN WITH SPECIAL NEEDS
Yachad is an inclusion program and offers children with special needs the opportunity to fully enjoy the JCC camp experience. Children with special needs are assigned an advocate who will personalize the camp experience to meet the individual needs of the child. Intakes are required for acceptance into this program. Contact Angie Hiland, 238-2716, for more information.
CAMP CONDUCT POLICY
Every effort will be made by staff to ensure a positive camp experience for your children.  In the event that there are behavioral difficulties, which are deemed irreconcilable, children may be removed from any JCC summer program either in part or in full.  Availability of refunds, partial or full, will be determined by Center staff.

CAMP COMMITTEE
Jasmine Farrier, Chair, Caren Bailen, Jeanette Duque, Karen Christopher, Terri Cleary, Brett Friedman, Heather Gladstein, Allison Goldstein, Ali Ignatow, Lindsey Ronay, Melanie Wachsman
FUNDED IN PART BY
C.D. & Lois Kline Baron Camp Scholarship Fund
Florence Kreitman Isaacs Summer Camp Fund
Sadye and Maurice Grossman Community Service Camp Fund
Gail Cassen Schwartz Youth Sports & Fitness Fund
The JCC is open and accessible to everyone regardless of age, race, religion, national origin or special need.
---