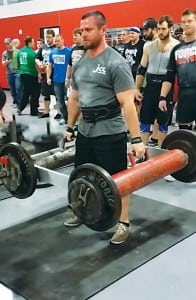 Ryan Perryman, a personal trainer in the JCC's health and wellness department, might not fit pre-conceived notions of a World's Strongest Man competitor.
He's not a hulking beefcake of a guy, the kind you see on ESPN2 pulling a line of cars.
But at 5 feet 9, and 220 pounds, he's considered a light heavyweight, and in the Strongman competition, that almost means more, he said.
"Those big guys, they can do what they do with sheer mass," he said. "We have to be much stronger."
Peryman competed Jan. 18 in the World's Strongest Man North American preliminary event. He was on target to place 8 out of 11, but hurt his back and had to withdraw before finishing. This was his second competition; he placed third in an event held in Kentucky in 2011.
Most would agree, just being able to meet the requirements of the competition is quite a feat.
He had to be able to deadlift 550 pounds, carry a 265-pound husafell stone 75 feet, carry a 250-pound keg 75 feet and do a 240-pound axel clean and press.
Perryman, 29, has been training since he was 14 years old. He was a pudgy kid and his dad suggested he start lifting weights and helped him get started. They worked out together and competed with each other.
Perryman said he liked working toward goals, and improving day by day. It taught him discipline and perseverance, he said.
"There are a lot of great lessons you can apply from the gym outside of exercise," Perryman said.
Perryman has several levels of training certifications, including having been a physical training leader in the Air Force. He's now working toward his Certified Strength and Conditioning Specialists certification from the National Strength and Conditioning Association, which is considered the gold standard in the industry.
But again, don't pre-judge Perryman. He's no gym rat with nothing between the ears.
Perryman, who has a BA in Humanities from Indiana University Southeast, is also working toward his Master's degree in Civic Leadership from University of Louisville. His thesis focuses on using feminist standpoint theory to create more holistic approaches and policies for exercise and exercise education.
He said he'll keep competing in Strongest Man competitions. The final competition is invitation only.
"I'd like to achieve professional strongman status," he said.