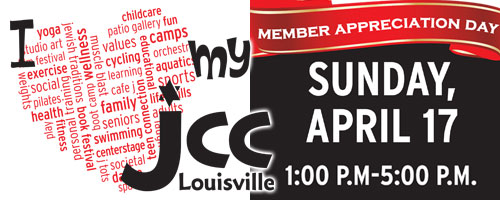 Get ready to dive in, the outdoor pools open for the Summer Season on April 17th.  To celebrate, the JCC holding a Membership Appreciation Day event from 1-5 p.m.
Free popcorn, cotton candy and refreshments will be provided to all members during the opening day party.  Two lanes of the outdoor Lap Pool will be dedicated to free swim so everyone has room to enjoy.
"We wanted to say thank you to all the members as we opened the pool this year," says Aquatics Director Liz Stumper.  "We thought a very special party was the perfect way to get off to a great summer."
There will be special fitness classes and demonstrations during the afternoon if members are not ready to splash in the pool.  Personal Training and Pilates Instructors will be on hand to give members a chance to try out their fitness solutions.
Special Member Appreciation Day group fitness classes will also take place inside and outside weather permitting.  Hunter, Jenna and Ginny will lead spinning classes that will get members' hearts' pounding.  Then members can melt away those winter pounds with outdoor Boot Camp and Muscle Blast classes by Susan, Mary and Hunter, weather permitting.
"It is a chance for the JCC to showcase some of the fun fitness solutions we have available," says Fitness Director Ron Peacock.  "We are always working to make our classes enjoyable for everyone of any ability."
Sports Director Scott Thompson has a fun day planned for children as well.  The Bouncy will be set up outside and kids can compete in the Free Throw contest in the gym.
Membership Appreciation Day Schedule:
1-2    Cycle with Hunter
1-2    Outdoor Boot Camp with Susan
2-3    Cycle with Jenna
2-3     Children's Free Throw Contest
2:30-3:30    Outdoor Muscle Blast with Mary
3-4    Cycle with Ginny
3-4    3-Point Shooting Contest
4-5    Cycle with Ginny
4-5    Outdoor Boot Camp with Hunter
All Day:
Outdoor Bouncy, Free Swim, Refreshments, Obstacle Course, Free Massages