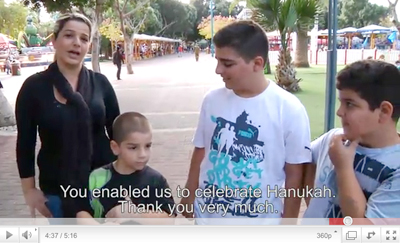 The Jewish Agency for Israel Reports
On Thursday, December 2, a raging fire broke out in Israel's Carmel region, turning into the country's worst natural disaster in its history.
As the fire spread rapidly, parents rushed to gather their children from school and local kibbutzim were evacuated.
12,300 acres of Carmel forestland were destroyed.
250 homes were damaged.
42 people were killed.
17,000 children and families were evacuated from their homes.
This unprecedented natural disaster truly devastated Israel.
Within less that 24 hours, the Jewish Agency was on the scene providing emergency shelter and support, counseling and respite activities for children. You can see JAFI in action in the video below.
It is with sincere thanks to our federation partners, whose ongoing support enables the Jewish Agency to respond at a moment's notice in times of crisis. Through this critical support, we are able to act on your behalf as the first responder to emergency situations in Israel and throughout the Jewish world.
With your continued partnership, we will continue work on your behalf with the government of Israel and local municipalities to identify and address the most pressing needs of communities ravaged by this terrible tragedy.
Thanks to all of you for your ongoing support, especially during crises. It is your partnership, and especially your annual campaigns, that make us able to respond to emergencies on the turn of a dime.
……………
The Jewish community of Louisville is a part of the Jewish Federations of North America.  To donate and support projects like these and those to come, call 502-451-8840 or click below.  Thank you. Without your help none of this would be possible.