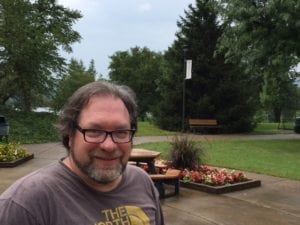 Michael Jackman thinks the Jewish Student Union at Indiana University Southeast can only enhance life at the New Albany-based campus. But it must first walk before it runs.
Established last year, the JSU members spent much of the term organizing themselves, writing a constitution and bylaws, electing officers and achieving recognition from the university. They also held meetings and discussions.
With that heavy lifting behind it, the JSU begins its first year as a full-fledged IU Southeast student organization, adding diversity to a school where few students openly identify as Jewish.
But the group lost three of its initial six members to graduation last year, making recruitment a high priority. So it plans to table at student orientations this year. It will also take part in the school's annual Week of Welcome, passing out literature at social activities that complement the first week of the term, which begins on August 22.
"Maybe we'll have some cool things" for the students, said Jackman, a senior lecturer in English and one the group's two faculty advisors, "like name cards with names of people in Hebrew and English."
Jew and non-Jew alike are invited to explore the JSU, Jackman said. "It's not a religious group per se. It's open to any student who wants to explore issues of Jewish religion, identity, culture and politics."
Politics, however, are not at the core of the group, according to Matthew Haskell, a fourth-year English major and JSU's incoming president.
"In the few meetings we have had, we have discussed politics a little bit, but it's not a political group by any means," he said. "We'll discuss the election coming up; we've talked a little about German politics, obviously Israel, but I don't see it as a political group."
JSU got its start last year following a lecture on campus by Eva Kor, a Holocaust survivor who, along with her twin sister, was subjected to brutal experiments at Auschwitz by the notorious Dr. Josef Mengele. Kor's appearance inspired Chelsea Markuson, an art major and the granddaughter of a Holocaust survivor, to establish the group with help from Jackman and campus librarian Melanie Hughes, the other advisor.
Markuson, the first JSU president, has since graduated.
In addition to organizing itself last year, the faculty advisors served latkes at the Moonlight Breakfast on finals week.
This year, Jackman, Haskell, JSU graduate Nick Perez, and Jewish Community of Louisville Hillel Director Benji Berlow met to begin planning for the term. Recruitment topped their agenda.
"The main goal we all agreed on was to build membership with the group," said Berlow, responding to emailed questions from Community. "We brainstormed ideas of how to have events that were highly visible and could have the potential of people 'walking by' and joining in an activity."
Those events include Shots for a Sweet New Year (apple juice and honey). They also discussed possibly bringing speakers to campus and hosting a model Seder during Passover.
"We talked about some basic tasks to establish the group such as creating a Facebook group for communication and a general schedule for the year," Berlow said. They plan to "focus on two to three well-done events instead of trying to sustain ongoing events."
Besides its own events, Berlow wants JSU members to participate in campus Jewish activities in Louisville.
I hope that IUS students go to Bellarmine's apple picking event and UofL's challah baking," he said, "just as UofL and Bellarmine students will go to IUS for their events this coming year."
As a recognized student organization at IU Southeast, JSU is expected to perform community service hours this year, although, as Jackman said, "In our case, we'll call it tikkun olam."
For his part, Haskell, who just returned from a Birthright Israel trip, would love the chance to recount his adventure to other members.
"If people start joining the group, and I find there are Jews among them, then I will be an advocate for Birthright and urge people to go," said Haskell, a Louisville native who grew up at the Temple. "It was the most amazing experience of my life."
JSU charges no dues for membership. It does have some seed money, which it received as a newly registered IUS organization. It also has the opportunity to apply to the Student Life Committee for registered student organization grants for programming. The grants generally do not exceed $2,000 per qualified event.
JSU members are also welcomed at activities hosted by Hoosier Havurah, a relatively new off-campus Jewish entity in New Albany. Hughes and Jackman are among its members who meet monthly for brunch. Last year, they also held a Passover Seder and a Shavuot celebration.
Activities aside, Hughes, who joined Hillel at IU Bloomington when she went to college, touted the friendships students can make at JSU, describing them as a big takeaway from the campus Jewish experience.
"I'm still in touch with those friends [from Bloomington]," Hughes said. "It just strengthened friendships outside the classrooms and enriched our lives."
Like Berlow, Hughes hopes Jews and non-Jews alike will come from Louisville to support the JSU, though she is aware some Louisvillians prefer to not cross the river.
"We would just like the support of people who are not afraid cross the river and be part of our events," she said. "'It's just a bridge, get over it,' as the bumper sticker says."