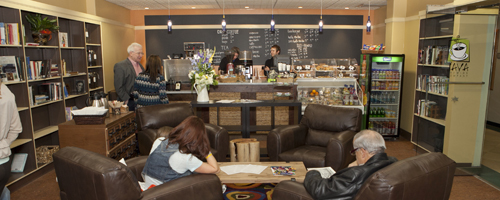 Members of the Jewish Community Center, their guests and local fans of the Java Brewing Company will have yet another venue in which to satisfy their urge for liquid refreshment and accompaniments when Java's newest location opens in the Center's attractively remodeled Naamani Library just off the lobby on Monday, January 17.
You can browse books and periodicals while enjoying a freshly brewed cup of coffee, a sandwich, and perhaps indulging in a palate pleasing Najla cookie. The café is centrally located, just a few steps from the Patio Gallery and the Linker Auditorium and a short cool-down walk from a downstairs workout or swim. Eat-in or carry-out – either way you are in store for a treat. The café will be supervised by the Louisville Vaad Hakashruth.
Show your JCC membership card and receive a 10 percent discount on the purchase price of a Java Brewing gift card that can be used at any of Java's six area locations.
So give yourself a break – you deserve it. It's Java time at the JCC.