Israeli chef teams up with Rye chef and staff to create special brunch
[by Shiela Steinman Wallace, Editor]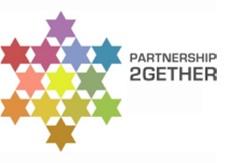 When Louisville's Partnership 2Gether Committee, chaired by Jon and Laura Klein, learned that four visionaries were coming to Louisville from the Western Galilee and renowned Chef Uri Jeremias was among them, they came up with an idea for a very special program. Working with Rye on Market owner Michael Trager Kusman, Chef Tyler Morris and General Manager Erin MacDonald, they put together a spectacular tasting brunch, Farm to Table: Israel to Louisville that the two chefs collaborated to create.
The event at Rye's on April 28 sold out quickly. The diverse crowd that filled the dining rooms expected a sensational experience, and they were not disappointed. The two chefs presented a seven-course meal of small bites, each one artfully presented and prepared. The total experience offered a wide range of tastes, textures and aromas. Course one was white asparagus and Nori goat cheese on marble rye. Next came snapper ceviche with caper, lemon red onion and olive. That was followed by salmon sashimi with wasabi sorbet and soy sauce presented on a shell nestled in a bed of salt. The warm, bright yellow coconut-curry fish soup with cilantro, basil and lime arrived at the table in small, clear glasses. Hawaiian ono with kiwi, mascarpone and hazelnut was presented to each table on wooden boards from which each diner selected one treat. Course six was wahoo a la plancha mejadra with cilantro-chile sauce, and desert was chocolate cremeux with dried bing cherry and almond.
Jon and Laura Klein presented a brief overview of the Partnership and introduced Chef Jeremias and the other visiting Partnership visionaries.
Chef Jeremias said he started cooking as a hobby when he was young and later decided to make it his profession. He said Israel's food and beverage industry is changing and maturing. The country now has many good new restaurants and a thriving wine industry. The Western Galilee, Louisville's Partnership region, has a lot of quality products to offer, he said, including fruits, vegetables, spices and wine. He expressed the hope that the morning's brunch would "start a snowball to roll" and that he would see "all of you in Israel" at his restaurant, Uri Buri, in Akko.
Jon Klein thanked Chef Morris, Erin MacDonald and Michael Trager Kusman. Farm to Table was a Jewish Community Center event supported by the Jewish Federation of Louisville.
{gallery}Community/2013/052413/rye_web_052413{/gallery}