Picture two huge gallery walls covered with 539 individual triangular shaped quilt pieces that each pay tribute to a woman, women's organization or women's issues and you can begin to sense the enormity of the University of Louisville Hite Art Institute's exciting new exhibition, "Capturing Women's History."
The exhibit, which is on view until March 19, explores the relationship between women, craft and social engagement and celebrates noted feminist artist, Judy Chicago. The centerpiece, the International Honor Quilt (IHQ), is shown in its entirety for the first time. A third gallery displays the 1985 Hot Flash Fan, a collaborative work initiated by Chicago and Ann Stewart Anderson that features mixed media quilting contributions from 50 Kentucky artists.
Chicago was in Louisville last spring to kick-off the National Council of Jewish Women, Louisville Section's 120th anniversary celebration. She is best known for her work, "The Dinner Party," first shown in 1979 and now permanently housed at the Sackler Center for Feminist Art at the Brooklyn Museum. Chicago initiated creation of the IHQ in 1980 as a grassroots feminist art project to "extend the spirit" of The Dinner Party during its world tour and expand the number of women honored in the piece.
"Through the Flower," a non-profit feminist art organization founded by the artist in 1978, issued a call for participation in the quilt project. Each prospective contributor was asked to create a 24-inch equilateral triangle quilt panel and include information about the honoree, the maker, and the materials and techniques used. This resulted in hundreds of panels donated to the organization that comprise the IHQ.
In October 2013, Through the Flower gifted the IHQ to the Hite Art Institute thanks in large measure to the efforts of Shelly Zegart, an international quilt expert, executive director and host of "Why Quilts Matter: History, Art and Politics." She now chairs the governance committee that oversees the integration and use of the IHQ at the university.
"I couldn't be more proud of my hometown university and their forward thinking about this project," Zegart commented. "The enthusiasm of the Hite Art Institute and its leaders and the collaboration of the many departments have brought it to reality and to the walls of Schneider Hall. I am so pleased I was able to convince Judy to donate the IHQ to UofL and the Hite Art Institute. I look forward to watching all the ways in which students, donors and researchers will use the IHQ as the core of a center for art and change."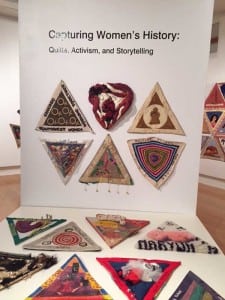 Future plans call for providing archival materials to scholars and educators; encouraging greater scholarship and research opportunities in art; initiating collaborative programs and ensuring that women's achievements and contributions have been and are recognized, recorded and honored. For more information about the International Honor Quilt, visit the IHQ database at http://digital.library.louisville.edu/cdm/landingpage/collection/ihq.