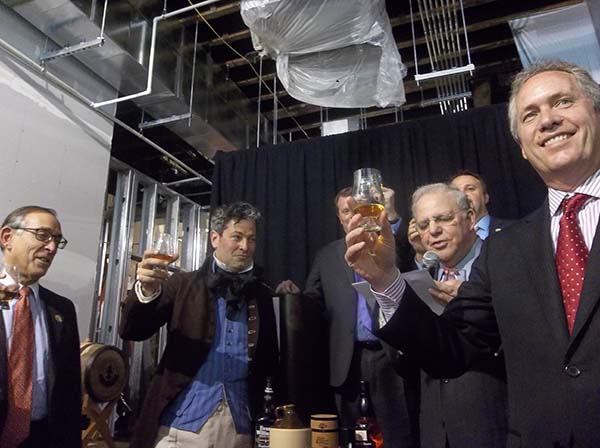 LOUISVILLE, KY – The Kentucky Bourbon Trail® adventure is barreling into the River City, with Heaven Hill Distilleries' new Evan Williams Bourbon Experience™ becoming the eighth stop on the world-famous journey and the first ever in Louisville.
Louisville Mayor Greg Fischer made the announcement on May 9 at the downtown site on historic Whiskey Row, where Heaven Hill is building its multi-million dollar artisanal distillery and immersive tourism experience that is scheduled to open this fall.
"I can't think of a better way to celebrate National Travel and Tourism Week than announcing that the first Kentucky Bourbon Trail distillery is coming to Louisville," Fischer said. "This is a huge step to enhance the city's Bourbon tourism efforts.
"Our pioneer distillers like Evan Williams probably never dreamed what they were starting when they settled here generations ago. Now, I can't imagine what Louisville would be without the Bourbon industry. This is a day I'm proud to toast."
Heaven Hill executives and leaders of the Kentucky Distillers' Association, which created the Kentucky Bourbon Trail® program in 1999, gave Fischer a commemorative barrel filled with whiskey from all eight distillery stops to mark the occasion.
"Today starts a great new tourism partnership for our signature industry and the city of Louisville that will pay benefits for years to come," said Max L. Shapira, President of Heaven Hill Distilleries, Inc., the largest independent family owned and operated distilled spirits company in the United States.
"The skyrocketing success of the Kentucky Bourbon Trail tour has been amazing," he said. "It is a world-class and much-celebrated attraction, drawing hundreds of thousands of visitors from around the world, all eager to spend and savor our unique Bourbon history."
More than 2.5 million people have visited Kentucky Bourbon Trail ® distilleries in the last five years, including a record 509,292 in 2012, said KDA President Eric Gregory. That was the first time the tour has broken the half-million mark since its inception.
The iconic journey features Four Roses and Wild Turkey in Lawrenceburg; Heaven Hill's Bourbon Heritage Center in Bardstown; Jim Beam in Clermont; Maker's Mark in Loretto; Town Branch in Lexington and Woodford Reserve in Versailles.
Gregory cited a recent University of Louisville study that analyzed the surging impact of Bourbon tourism and the KDA's "Passport" program that rewards visitors with a complimentary t-shirt when they tour all seven distilleries.
Each Passport holder spends an average of $737 on their trip, the study found. "With nearly 50,000 completed Passports since 2007, the Kentucky Bourbon Trail alone is responsible for pouring more than $35 million into local coffers in the last five years," Gregory said. "That's an incredible amount, and it's only going to get bigger with the addition of the Evan Williams Bourbon Experience and all that Louisville has to offer as a Kentucky Bourbon Trail anchor."
The Evan Williams Bourbon Experience™, located at 528 West Main Street, will celebrate the legacy of Kentucky's first commercial distiller and namesake of Heaven Hill's flagship Bourbon brand, the second largest-selling Bourbon in the United States and the world.
Williams, circa 1755-1810, was an early Trustee of the City of Louisville, wharfmaster and builder. He established his distillery in 1783 near what is now 6th and Main Streets – almost directly across the street from where the new attraction will be located.
The educational experience will offer guided tours where guests will travel back in time to see Evan Williams' original distillery, Louisville town hall meetings and wharf scenes and video renderings of turn-of-the-century Whiskey Row.
The highlight will be a fully functioning artisanal pot still distillery, with gleaming copper pot stills that are a modern version of the same type of equipment Evan Williams used in his distillery more than 200 years ago. One of the signature features will be the façade of the building, where a five-story-high Evan Williams Bourbon bottle graphic will transform into a large, glass flowing Bourbon fountain in the lobby. "We're confident that this new attraction will continue the revitalization of Whiskey Row and bring the same kind of success that we've been fortunate to receive with our Bourbon Heritage Center in Bardstown," said Harry J. Shapira, Executive Vice President for Heaven Hill.
The event ended with Mayor Fischer stamping the first Kentucky Bourbon Trail® Passport on the new Evan Williams Bourbon Experience™ page and the KDA distributing keepsake Bourbon barrel ornaments.
Kentucky is the birthplace of Bourbon, producing 95 percent of the world's supply, generating $2 billion in gross state product, providing 9,000 jobs with an annual payroll of $415 million and creating $126 million in local and state tax revenue every year.
"This is an exciting time to be a part of our industry, and we couldn't have reached this level without great partners like Mayor Fischer and the city of Louisville," he said. "By working together, Louisville will become a global Bourbon tourism destination that cannot be duplicated anywhere in the world."