[by Cantor David Lipp]
Kosher Gospel?
Hinei Mah Tov sung to a melody reminiscent of When the Saints Come Marchin' in?
What have we here?
In celebration of the 50th Anniversary of the Kentucky Commission on Human Rights, Congregation Adath Jeshurun will host a man who grew up infused with Judaism & Jazz, a man who's voice channels Mahalia Jackson, whose fan base includes Oprah, who has sung with Aretha Franklin, Wynton Marsalis and Dizzy Gil-lespie: Joshua Nelson.
The Adath Jeshurun 39th Annual Music Festival, "Good for the Soul," will be Sunday, March 14, at 7 p.m.
Thanks to heavy underwriting support from the Adolf & Sara van der Walde and Israel Rosenbloum Charitable Fund, AJ's Music Festival has invited people who were instrumental in making possible the development of civil rights for all in the commonwealth, and they will be recognized during the concert by our own Mayor Jerry Abramson.
With the help of the dulcet tones of Cantor Sharon Hordes, an adult community choir including members of every synagogue in town, a junior choir culled from KATS and Kehillah (the Keneseth Israel-Adath Jeshurun-Temple Shalom combined Sunday school programs for elementary and middle school students) as well as the avid participation of the West Louisville Boys and Girls Choir, Joshua will rock our souls with his own energetic interpretations of Adon Olam, Elijah Rock, Jeff Klepper's Shalom Rav as well as Kosher Shout and Observant Jew.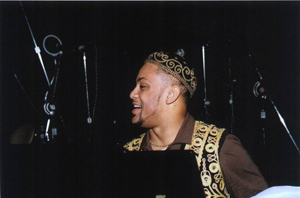 You'll be dancing in the aisles!
You won't want to miss the homemade desserts following the concert either.
As an added bonus, you may keep your Music Fest ticket and come back on Tuesday night, March 16, for a live simulcast of Matisyahu from the 92nd Street Y in New York City.
Jewish Gospel and Reggae in one week!
You may make reservations by phone at 458-5359 or go to AJ's website and use PayPal at www.adathjeshurun.com/musicfest.